Use the Counseling Guide to find biblical passages and sections from your counseling-related resources related to mental health, emotional well-being, and spiritual growth.
Skip ahead to:
Open the Counseling Guide
Open the Counseling Guide by clicking Guides > Counseling Guide. To get started, enter a topic and press Enter, or select an option from the autocomplete menu that appears as you type.
Note: If you use the Counseling Guide frequently, you may want to pin it to your shortcuts bar. To do so, click and drag the Counseling Guide icon from the Guides menu to the area to the right of the Tools menu. Learn more.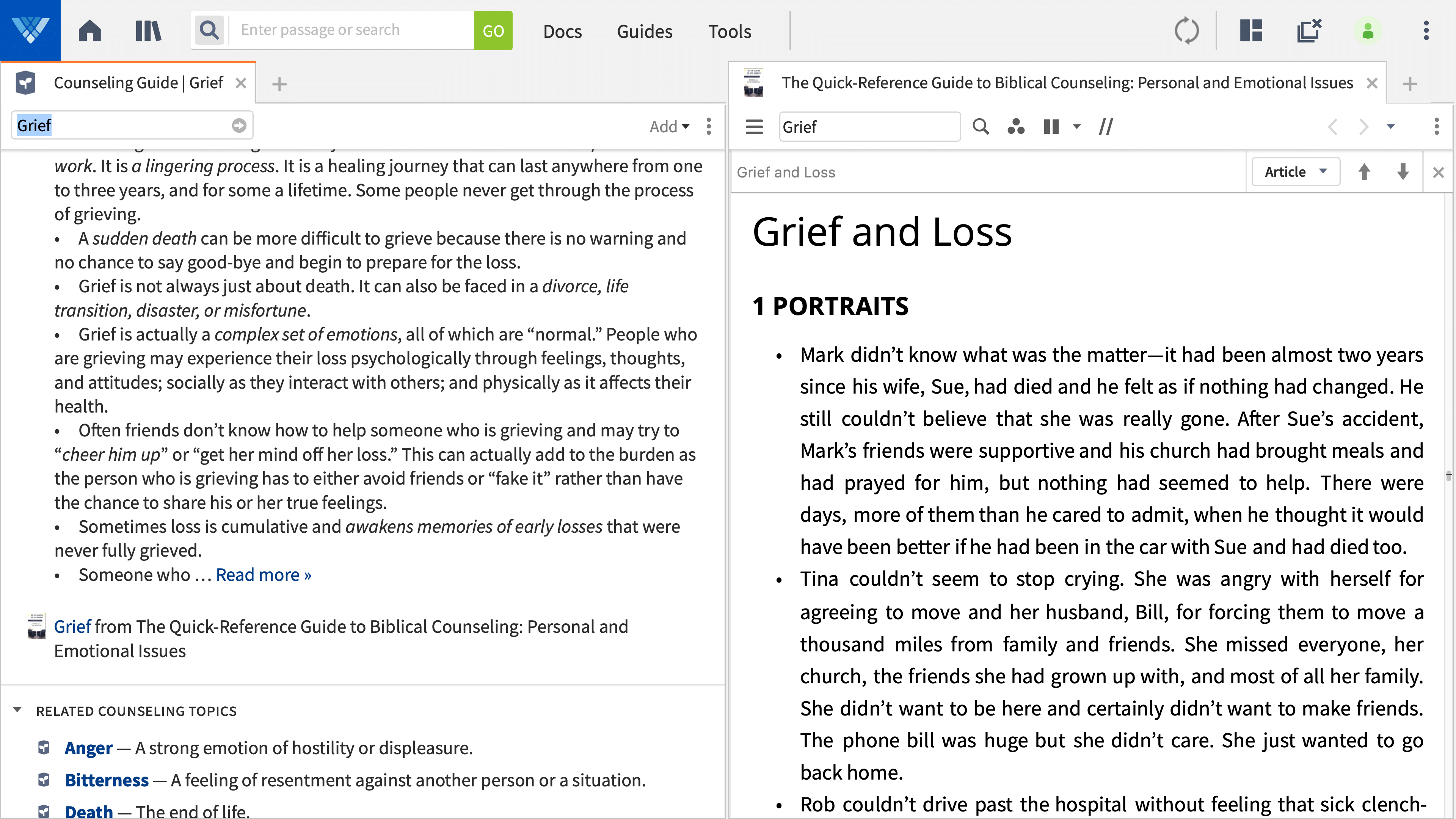 Counseling Guide Sections
Counseling Topic
This section provides a summary of the counseling topic you've selected.
Note: Not all counseling topics have a summary. This section will be empty for these topics.
Related Counseling Topics
This section provides a list of related counseling topics with brief definitions. Clicking a related topic opens a new instance of the Counseling Guide to that topic.
Passages
This section shows a list of biblical passages related to your counseling topic. Click a reference to open it in your preferred Bible. You can also save these passages as a Passage List, or open all of the passages in your Bible at once.
Dictionaries
This section shows results from the dictionary-type resources in your Library. Click any resource to open the resource to the relevant section.
Journals
In this section, you'll find links to journal articles on the topic you entered in the guide. Click any link to open the listed journal to the relevant article.
Lectures
This section displays hits within any of the "lecture" type resources in your Library.
Monographs
This section provides links to locations in your counseling books that discuss your counseling topic. Click the More links at the bottom to show more results.
Web Resources
This section links out to articles and audio/visual resources from Family Life Today and the Christian Counseling & Educational Foundation.
Note: These links require an active internet connection and will open in your preferred internet browser.
Books from Your Library
This section displays books in your Library that are not already included in the Monographs section.
Bookstore
In this section, you'll find links to unowned resources at Logos.com that also address the topic you entered.