Most people have a particular Bible translation, lexicon, or commentary series they prefer. Verbum recognizes this and allows you to prioritize your resources so that your preferred resources will open by default whenever you click a link for that resource type.
Getting Started
To begin, open the Library in either full-screen mode (drag the Library icon to the middle of your display to open it as the only displayed panel) or as a floating panel (right-click the Library icon and select Open in a floating window).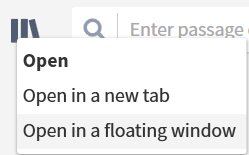 Click the panel menu icon in the upper-right of the Library panel and select Prioritize Resources. (You can also right-click a resource title and choose Prioritize this resource. If the resource is part of a series, the option to Prioritize this series will also be available.)
This opens the Prioritize pane.
Click the navigation menu icon to open the filters pane, and expand the Type section.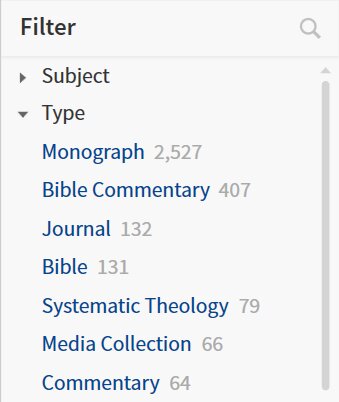 Select the type of resource you want to prioritize and drag the relevant titles to the Prioritize pane.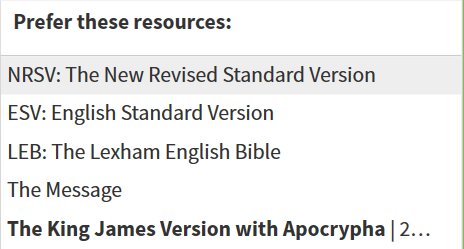 Note: Try to prioritize five of each kind of resource. Verbum features filters for Top Bibles, Top Commentaries, and others that focus on the top five resources of that type.
In addition to your top Bibles, you may also want to designate your top Bible Dictionaries (listed under Type:Encyclopedia), Bible Commentaries, and Lexicons.
Change the preferred order by dragging resources up or down in the pane.
Remove a resource by right-clicking it and choosing Remove from this list.
Prioritized Resources in Action
If, for instance, you type a Bible verse or passage into the command box, you'll notice that one of the options is to open the passage in your preferred Bible.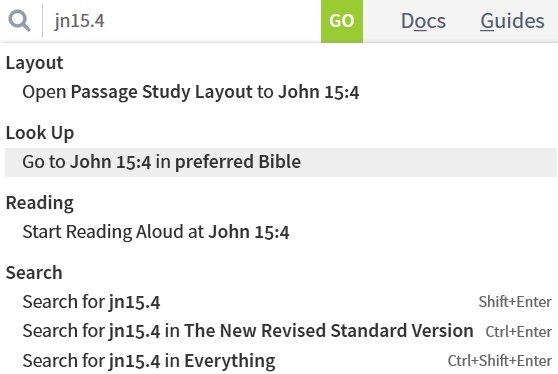 If you choose to open a Passage Study Layout instead, Verbum will open a layout with the Passage Guide for the passage you entered in one panel, the passage itself in your top three prioritized Bibles in another panel, and your top commentary on the passage in a final panel (this is where prioritizing an entire series is especially advantageous).