You can create reading plans for any non-reference resource or Bible in your library. Reading plans are shared across platforms and devices, so you can access your plans on Verbum desktop, the Verbum web app, or the Verbum mobile app.
Skip ahead to:
Add Books to Your Read Later List
Your Verbum Read Later list is a digital shelf for future books you'd like to read. When you're ready to read a book in your list, you can start a reading plan directly from the list (see below).
To place a resource on your Read Later list:
Open the Library and ensure the Books tab is selected.
Search and filter to locate a non-reference resource.
Tap the more actions menu icon and choose Add to Read Later.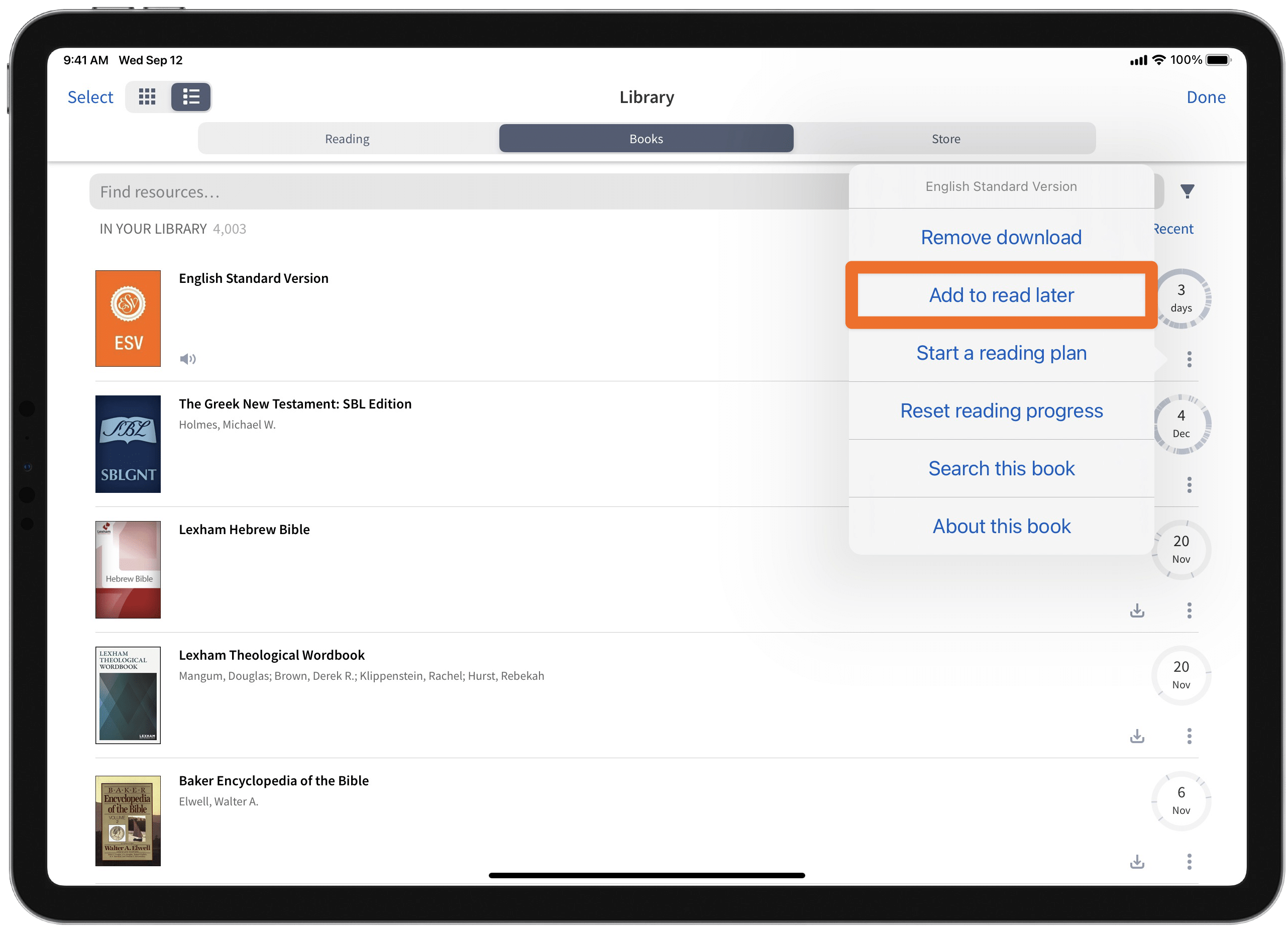 Note: To view your Read Later list, tap the Library icon

to open your Library and select the Reading tab. Tap Read Later at the top of the screen.
Create a Reading Plan
You can create a reading plan for any non-reference resource in your library, including Bibles. Reading plans sync to all platforms, so you can access your plans on any device with Verbum.
You can create a reading plan wherever you can view your resources in the Verbum Mobile App:
Library: When viewing the Library , tap the more options menu icon for any non-reference resource and choose Start reading plan.
Read Later list: If you've saved books in your Read Later list, you can start a reading plan by going to the Library , selecting the Reading tab, and tapping Read Later list. Tap Start Reading Plan for any non-reference resource in your list.
Resource actions menu: When viewing any non-reference resource tap the actions menu icon in the top right corner and choose Start reading plan.
Note: If you choose to read a Bible, Verbum defaults to reading through your preferred Bible in a year. Tap the Plan option to select one of the other predefined Bible reading plans. Verbum will name your reading plan to reflect your choice, though you can overwrite the default plan name above.
However you start a reading plan, Verbum shows an automatic schedule based on your resource selection. You can adjust the plan timeframe and sharing options below.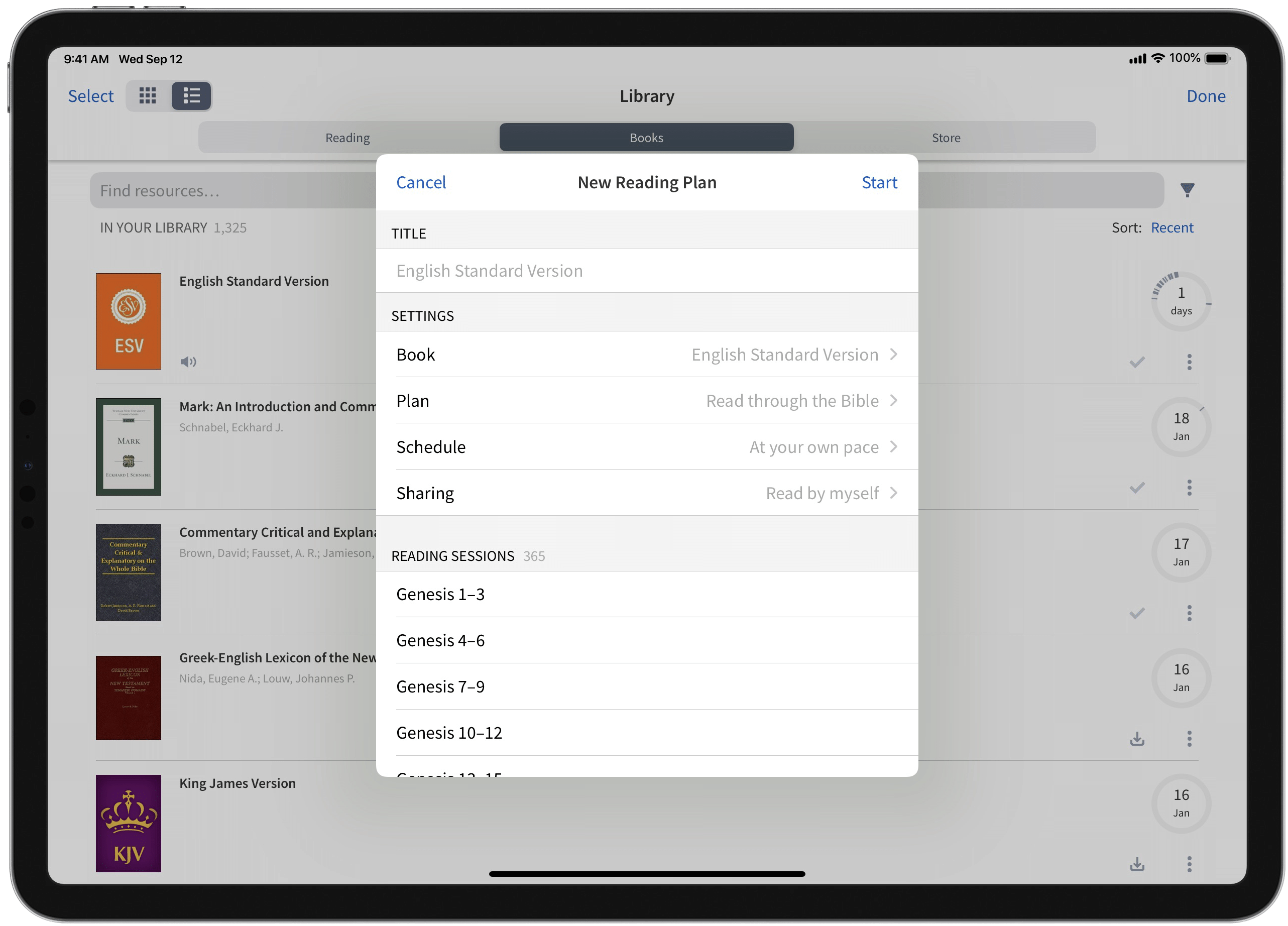 Schedule: By default, many plans are "At your own pace," which means you can read as you have time without keeping to an exact schedule. To set a reading schedule, tap the current schedule selection and make changes.
Sharing: By default, plans are set to read by yourself. You can, however, share the plan with a joined group. Those in your group will need a license to the resource to read along with you.
Verbum automatically divides your selected resources into reading sessions based on your selection. Tap Start to create your reading plan.
Note: To set more customizable reading sessions, create a custom reading plan in the Verbum desktop app.
Join a Group Reading Plan
If you're part of a Faithlife group that has created group reading plans, you can also choose to join your group's reading plan to work through a book or Bible together.
Open the Library .
Select the Readings tab.
Tap Group Readings.
Select any plan and tap Start.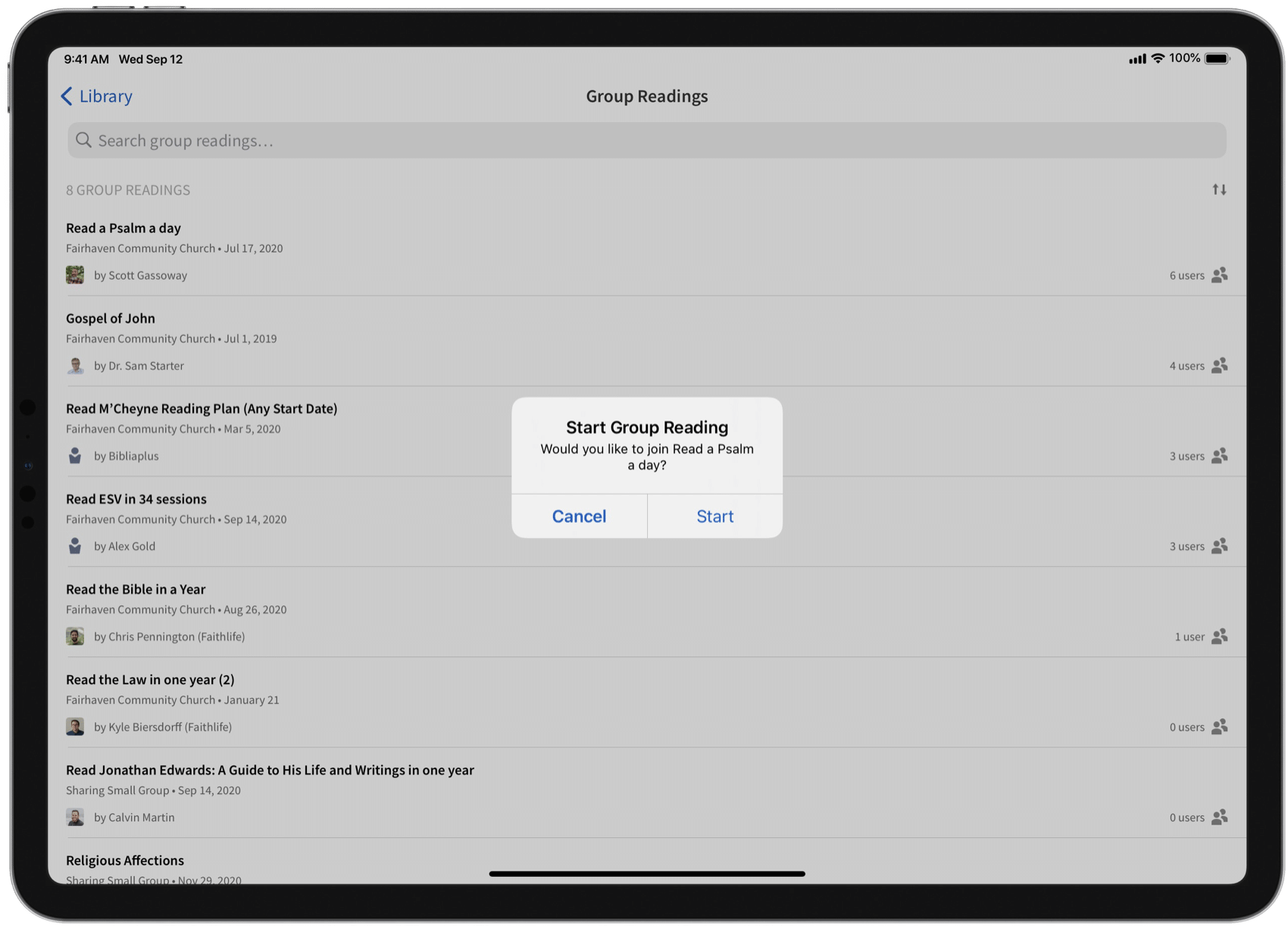 Joining a group plan will move it to your Reading Now list with an indication of what group is associated with the plan.
Read a Reading Plan
All reading plans are available to you, regardless of whether you created it in the the desktop, web, or mobile versions of Verbum. All your active reading plans display in your Library.
Open the Library .
Select the Readings tab.
Tap any plan to open it.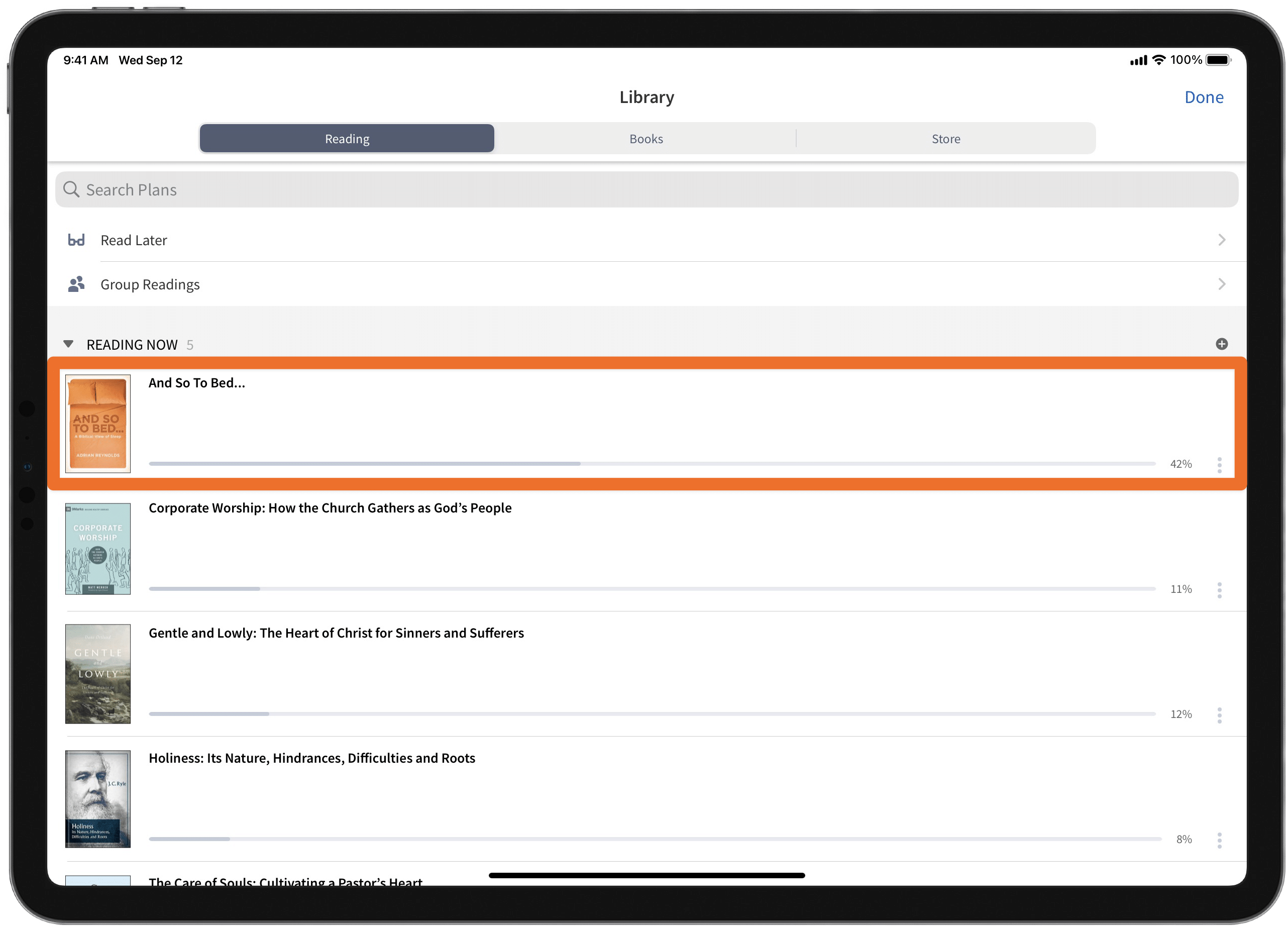 Note: You can also find active reading plans in the Dashboard section of your Home Page. Access your Home Page by tapping the Home icon

. Learn more about using the mobile Home Page.
Your plan will open to the next available reading, showing start and finish reading indicators. Tap Finish to mark the day's reading complete.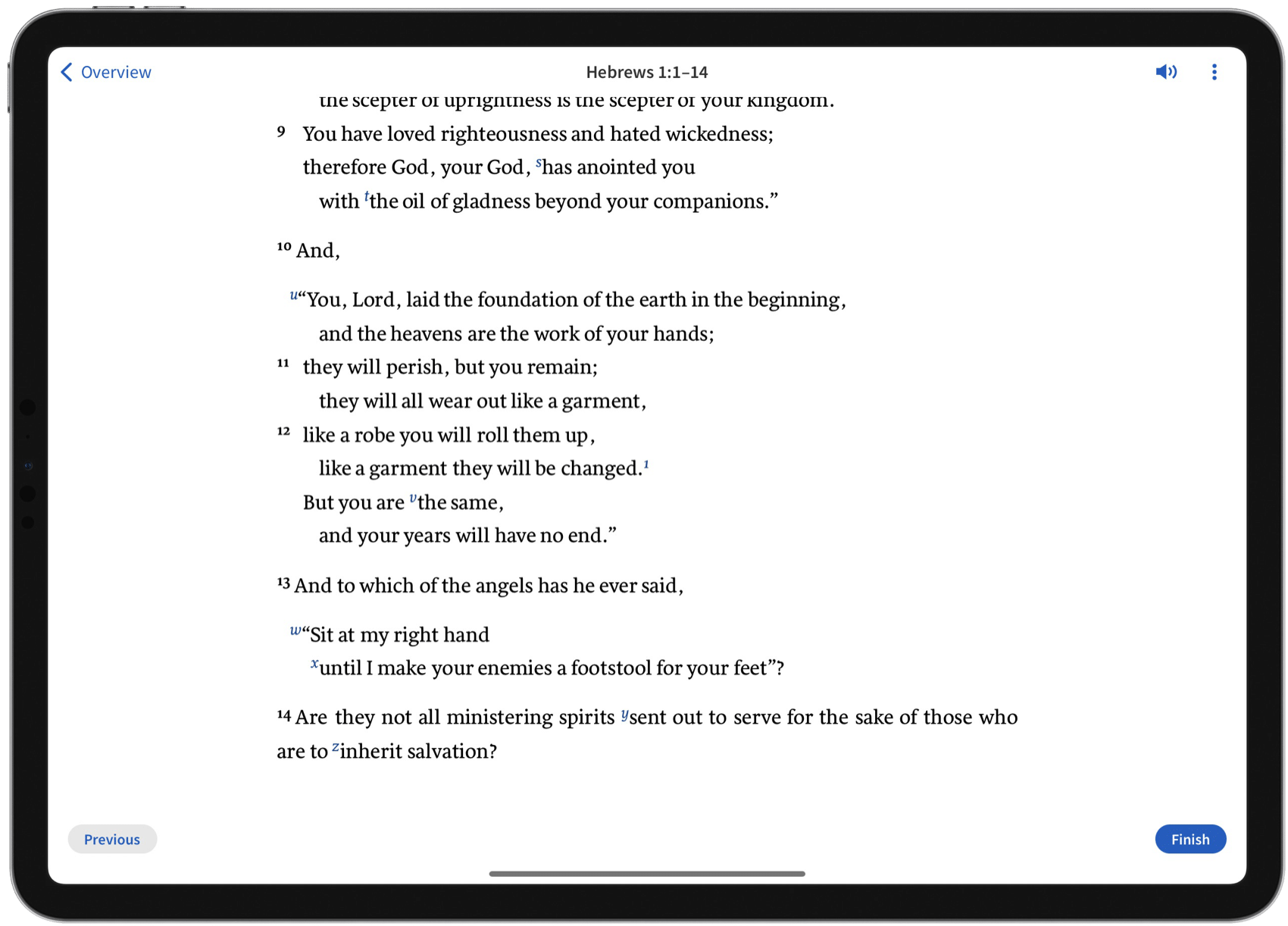 When finished with the day's reading, you can decide to continue reading, go to the plan overview, or to return to the Reading Plans page.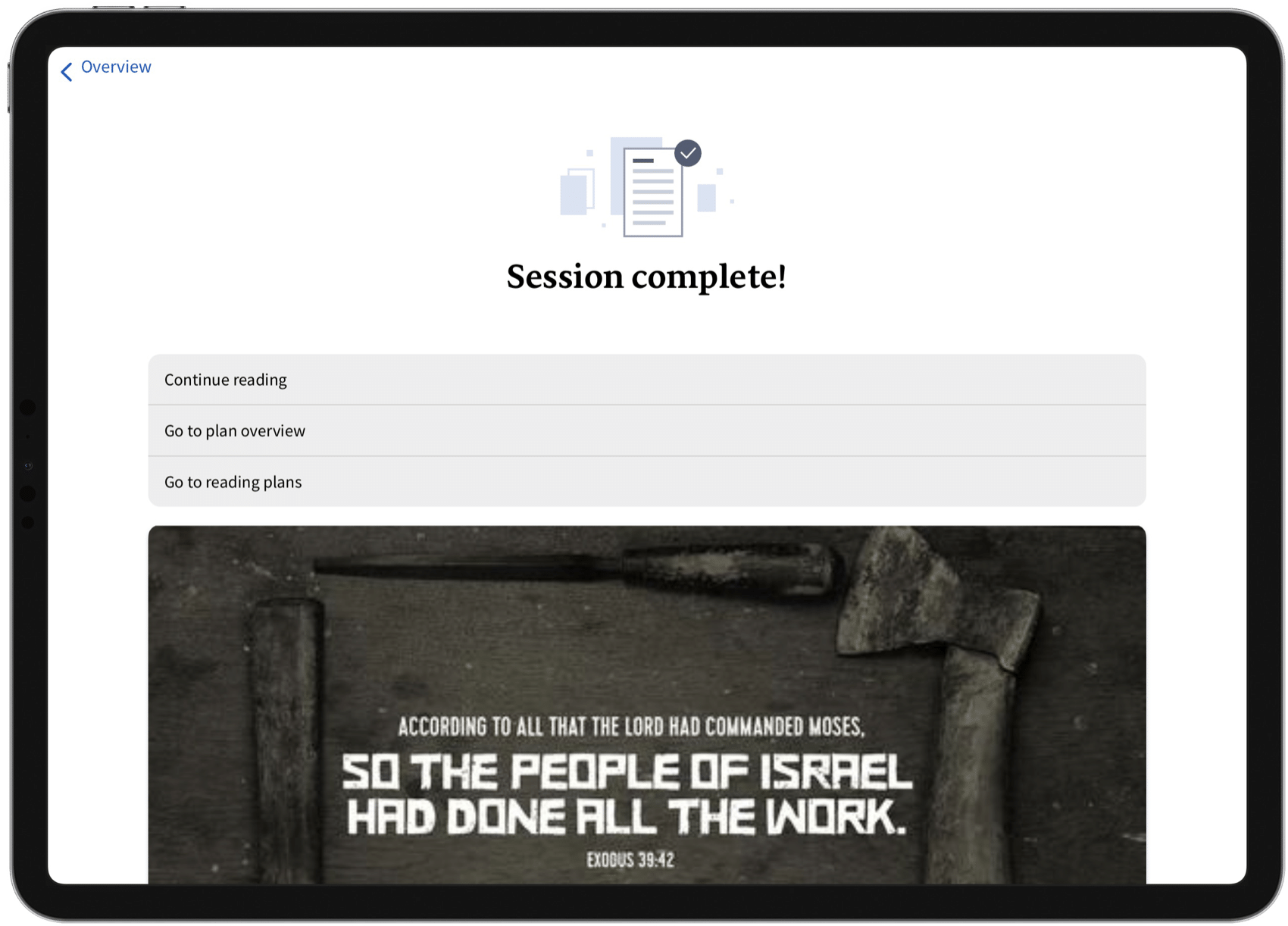 Note: When you finish a reading plan, it moves to the Completed section of the Reading tab view of your Library. Tap any completed plan to view it. To read any plan again, tap Restart while viewing the completed plan.
Other Reading Plan Options
The Reading tab in the Library offers several other reading plan options. Tap the more options menu icon

for any plan to view additional options.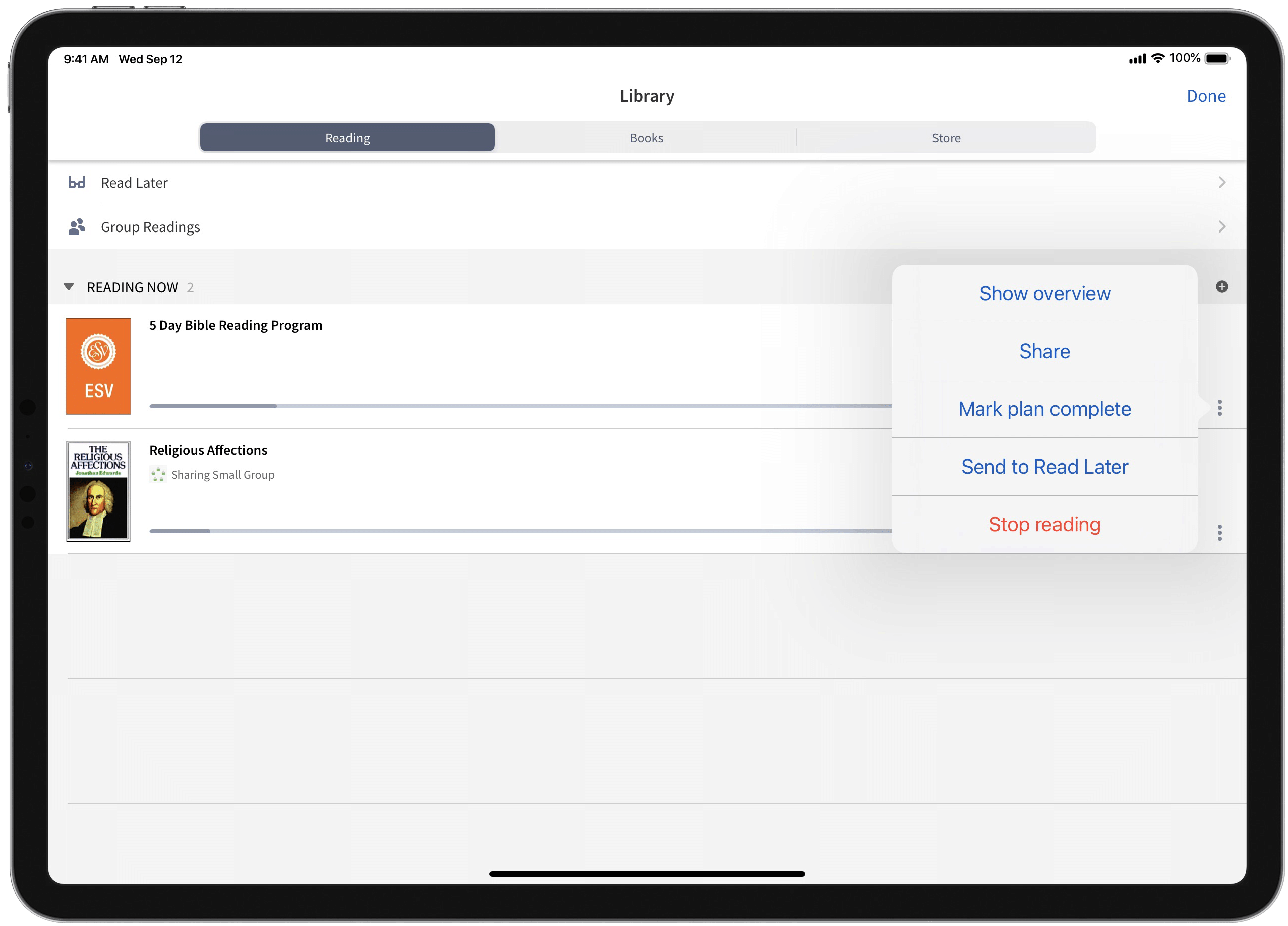 Show Overview: view your full plan.
Adjust to Today: move your next daily reading assignment to start today.
Share: if the plan is not shared with a group, you can choose to share the plan with one of your available Faithlife groups
Mark plan complete: mark all readings in your plan complete and move the plan to the Completed section in your reading plan page.
Stop Reading: delete the reading plan, removing it from your account (if the plan is shared with a group, this will not delete the plan for others in your group).
Enable Reading Plan Notifications
You can ask Verbum to remind you to read each day you have an active reading.
Tap the navigation menu and tap Settings.
Tap Reading Reminder.
Toggle Remind me on and set the notification timing.
If prompted, enable notifications. Each day, the Verbum mobile app will prompt you to jump back into your plan.