Word List documents are helpful tools to accompany your study of the original biblical languages. You can quickly create a Word List from references, resources, search results, and passage lists.
Create a Word List
Click Docs > New > Word List. (Word Lists you've already created will appear in the main pane of the Docs menu.)

Give your Word List a descriptive name by clicking on the title field and typing a title.
Add words to your list by clicking Add. Select your source from the drop-down menu.
Note: Adding lemmas or words from a reverse interlinear Bible will add the corresponding words from the original language version.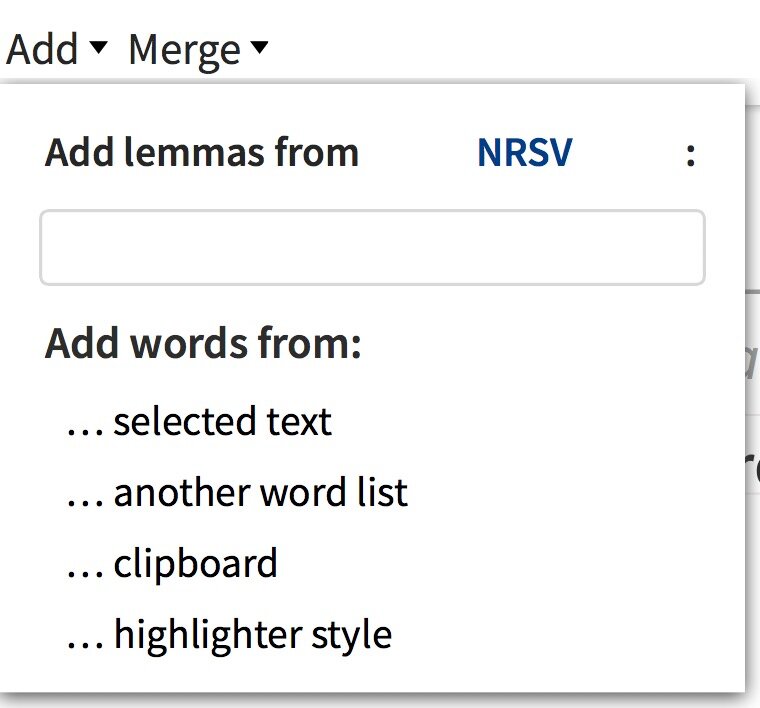 Add Lemmas From:
Add all of the lemmas (dictionary forms of words) within a selected passage. Enter a verse or passage in the passage box. Then select the source from the Version drop down menu.
Add Words From…
...selected text — Add all of the words selected in an open resource.
...another word list — Add the contents of another word list to the current word list.
...clipboard — Add words in your system clipboard to the current word list.

You can also add individual lemmas by entering them in the Add Lemma box at the bottom of the Word List panel.
Merge Word Lists
You can easily merge two lists to create a third new list. Note: This does not delete or alter the original lists.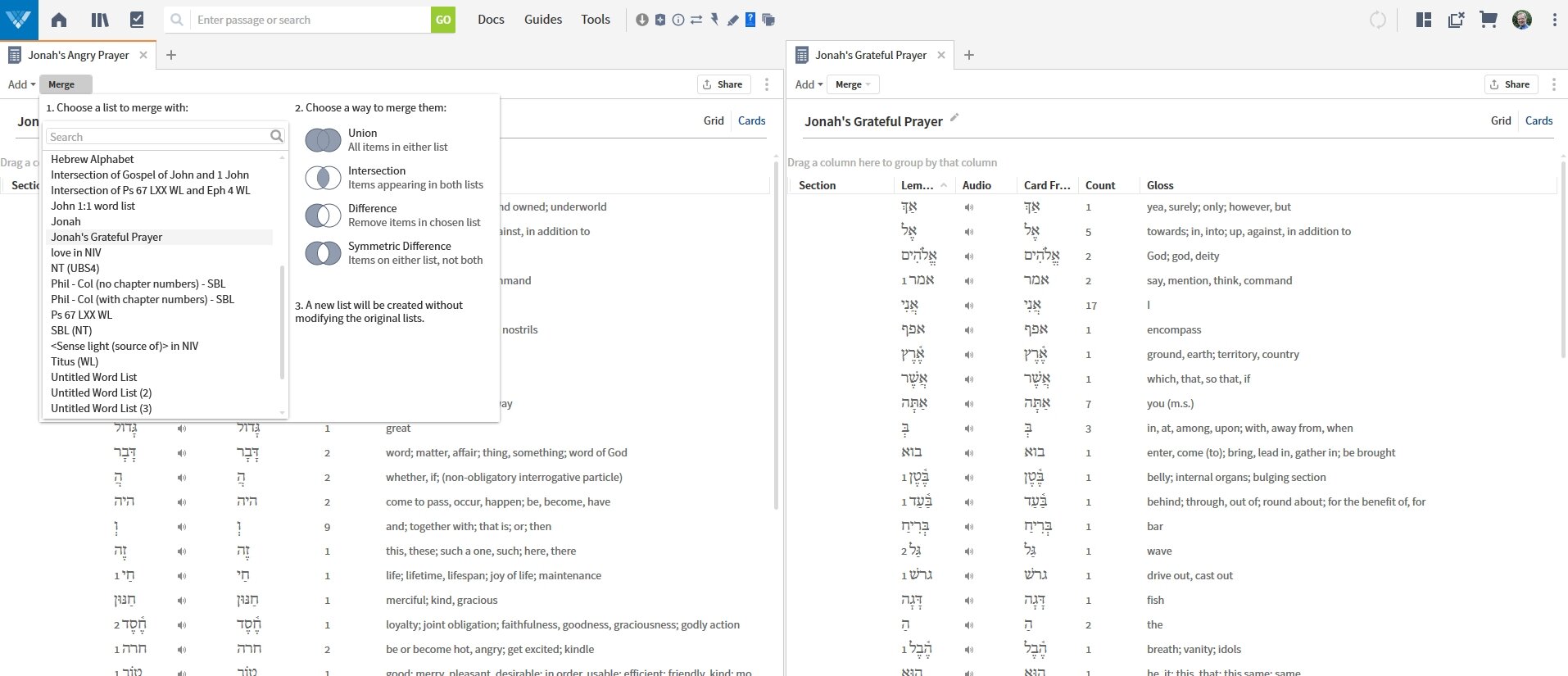 Click Docs, then select the first word list you want to use.
Click Merge in the Word List panel toolbar.
Enter the name of the second word list in the text box and select it when it appears.
Click the type of merge you want to perform. Verbum will generate a new word list and open it in a new panel.
Group by Column
You can group the words (e.g. by count) in your Word List by pressing Option (Mac) and dragging or dragging (Windows) the column heading to the field that says Click a column header and drag it here to group by it.

Remove a grouping by dragging it outside the grouping field.
Create Word Cards
You can create and print flashcards from your word list.
Click Cards in the upper right of the Word List panel.
Select the paper size on which you will print by clicking Letter, A4, or Index.
Select the number of cards per page by clicking 3 cards, 8 cards, or 10 cards.
Verbum displays a list of Avery card templates that are compatible with your selection.
You can view the front and back of your cards by selecting either Front or Back in the upper right of the Word List panel.
Share a Word List
All of the documents you create, including your Word Lists, are backed up on Verbum' servers. You can also share any document you create with your Faithlife.com groups. To do so, click on the Word List panel menu icon and select Manage document sharing. This will open an internet browser window to your personal documents page at documents.logos.com, where you can publish, collaborate, duplicate, and delete your documents.
Print or Export Word List Cards
Print or export your Word List cards to another format by clicking the Word List panel menu icon and selecting Print/Export. A new window will appear with print and export options.
Additional Resources
Verbum Help: Word List Document