You can control the behavior and appearance of your search by using the Search Panel menu. Access this menu by clicking on the menu icon

in the upper-right of the Search Panel.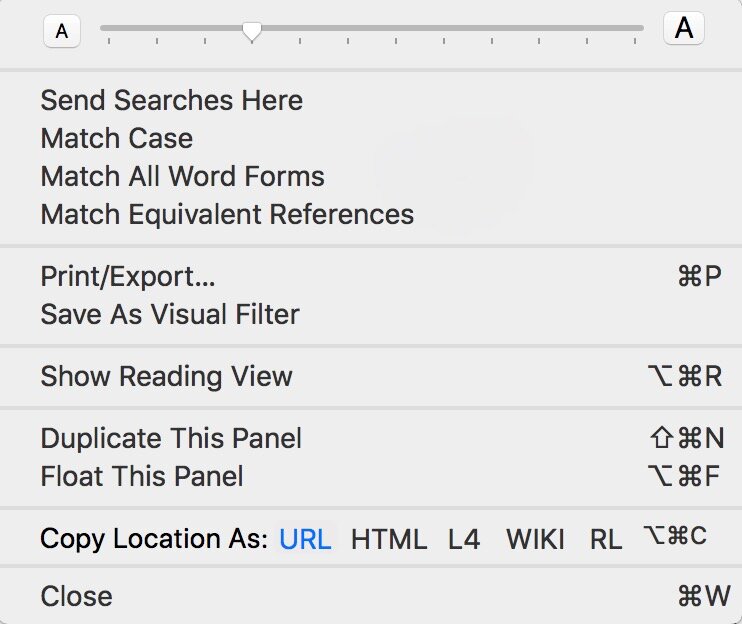 Text Size slider — Change the default text size within the Search Panel.

Send Searches Here — Performs any new searches (e.g. from the Context menu) in the current tab of the Search panel, instead of opening a new tab for each search.
Match Case — Makes your search case-sensitive, requiring search results to match the capitalization of your search query.
Match All Word Forms — Includes results of all forms of your search term in the search results. For example, results for a search for "love" would include "loved," "lovely," "loving," etc.
Match equivalent references — Sets your search to include equivalent references to biblical themes, etc. For example, in a default Basic search, searches for <event creation>, <topic creation>, or <theme creation> yield different results. Selecting Match equivalent references combines the results of these searches.
Print/Export — Cmd+P (Mac), Ctrl+P (Windows) — Open the Print/Export dialog.
Save as Visual Filter — Saves your search query as a Visual Filter. A Visual Filter highlights search results within a resource.
Show Reading View — Opt+Cmd+R (Mac), F11 (Windows) — Toggles full screen view on and off.
Duplicate This Panel — Shift+Cmd+N (Mac), Ctrl+Shift+N (Windows) — Creates a copy of the panel in a new tab.
Float This Panel — Opt+Cmd+F (Mac), F11 (Windows) — Moves the panel to a floating window. (Dock This Panel returns the panel to the main Verbum window.)
Copy Location As — Opt+Cmd+C (Mac), Ctrl+Alt+C (Windows) — Copy a location to the clipboard in one of the available formats:
URL — A hyperlink for use in a word processing document, email message, or web page.
HTML — A fully formatted link ready to embed into a web page.
L4 — A link that opens Verbum directly, without requiring an Internet connection. This may not work in some applications.
WIKI — A link formatted for use on websites like http://wiki.logos.com.
RL — A link formatted for use in a Reading List, at http://topics.logos.com.
Close — Cmd+W (Mac), Ctrl+F4 (Windows) — Closes the Search Panel.