What to Do If a Verbum Download Will Not Complete Automatically
Problem:
Verbum Bible Software should download resources automatically. It will also attempt to resume any interrupted downloads automatically. If Verbum has begun downloading resources, but did not complete the process (the percentage complete has not moved for several hours), please verify you still have internet access and follow the steps below.
Note: If you connect via Wifi, consider connecting through an Ethernet cable instead before proceeding.
Solution:
Step 1: Stop the Download

Quit Verbum.
Right-click the Verbum Indexer icon in the Apple Menu Bar.
Choose "Cancel Download".
Wait for the download progress to disappear.
Depending on computer speed and download size, this may take a while.
Note: This will not undo your current progress; it will simply stop downloading additional files. Already downloaded files will begin installing as soon as the download has stopped successfully.
Step 2: Restart the Computer
Save any open files or documents in other programs and restart the computer. When the computer boots up, verify you have internet access and open Verbum. Verbum should attempt to resume the download automatically; if it does not, please proceed to Step 3.
Step 3: Manually Restart the Download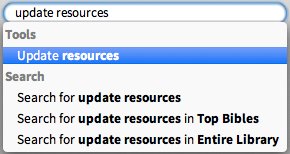 If the download did not resume automatically upon launching Verbum, be sure to check your antivirus and firewall settings to be sure Verbum has unrestricted internet access to the Verbum servers, then follow the steps below:
Open Verbum.
Click into the "Command" box at the top of the Verbum window.
Type "Update Resources" and press Enter.

Watch for the words "Checking for updates" in the bottom-right corner of the program. Wait for this message to disappear. This may take some time and the program may seem unresponsive while checking.
Please do not attempt to use Verbum or leave the application during the "checking" process.
Note: Your download should resume where it left off, but Verbum will consider it a new download because of the "cancel" interruption. The total size of the download will be less (equal to the remainder of the initial download) and the percent complete will be 0%.