Verbum 9 introduces a range of new features, and improves many others. The key changes introduced in Verbum 9 are listed below. To learn more about all features included in Verbum 9, visit Verbum.com.
Skip ahead to:
Reading Plans and Read Later List
Homily Manager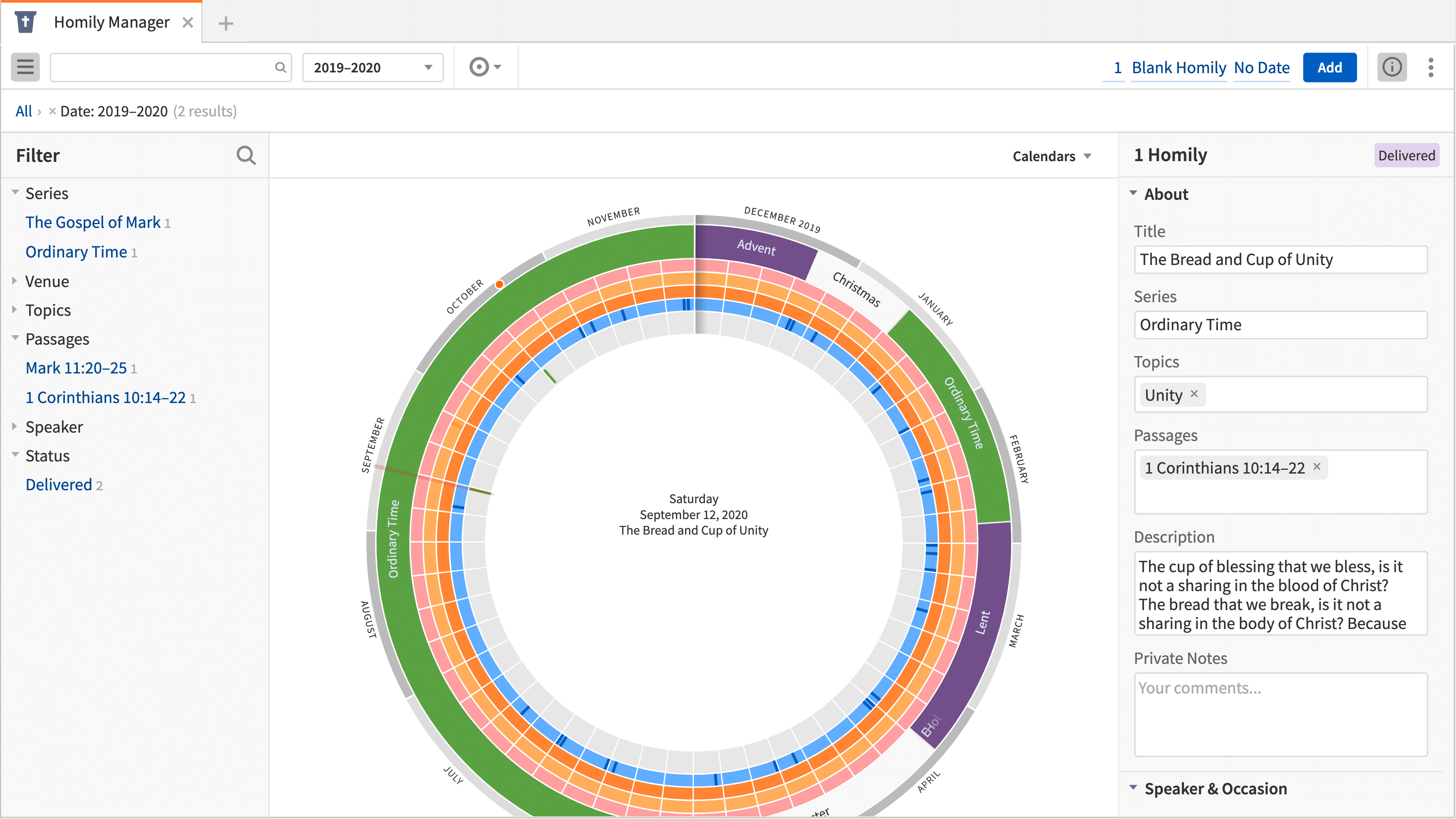 Plan for upcoming homilies and track the ones you've already preached with Homily Manager. This powerful tool enables you to quickly filter your homilies according to what stage of preparation they are in, which series they are part of, or their primary topic. You can view all of your homilies in a weekly grid or radial view to get a quick glimpse of where you've been and where you're going. And when it comes time to preach the homily you've prepared, you can open your homily in Homily Builder and enter Preaching Mode with just a few clicks.
Learn how to use Homily Manager
Homily Builder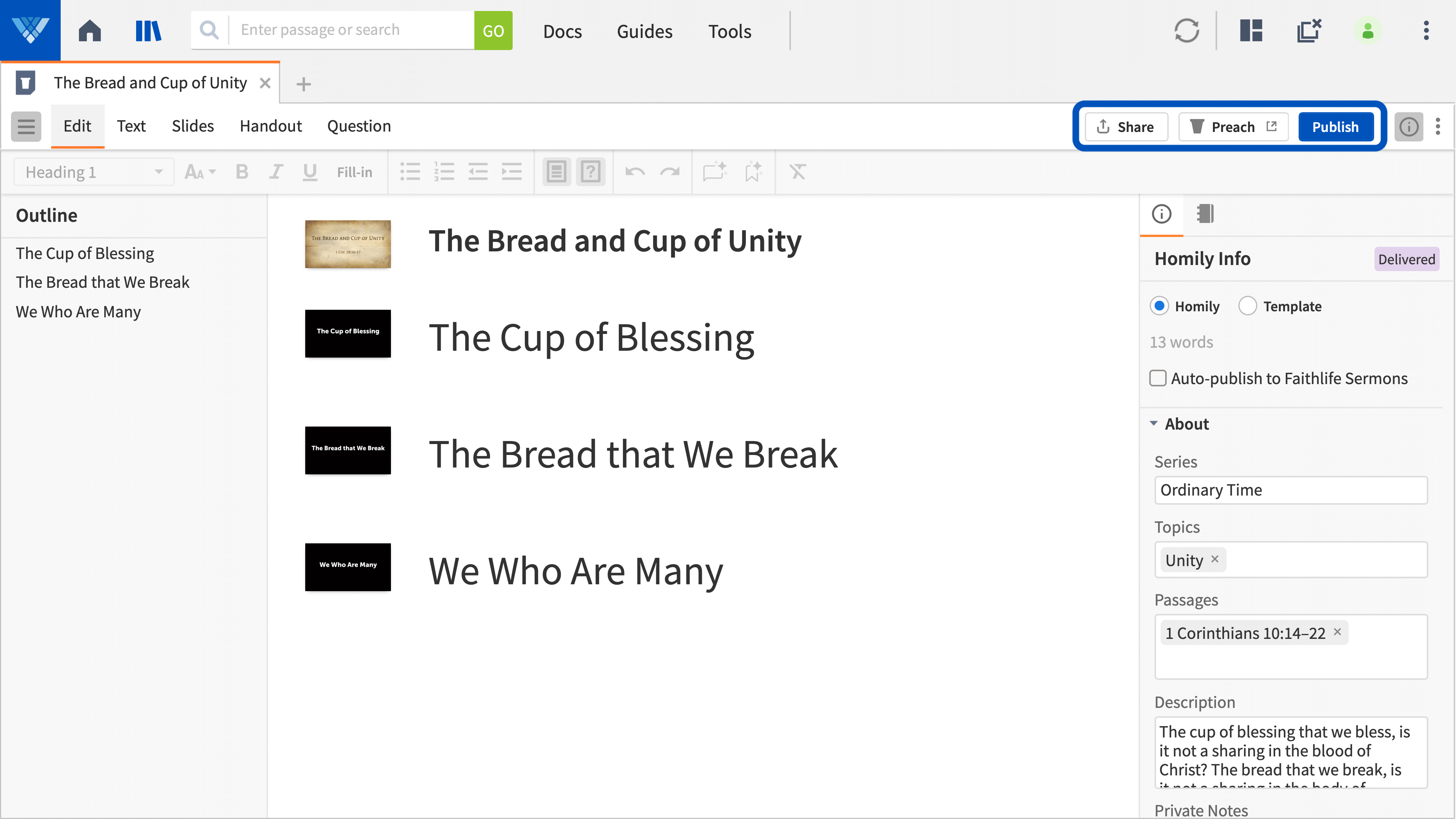 Incorporate content from your Verbum resources into your presentation seamlessly, and instantly transform your study into a message you can share with others with the Verbum Homily Builder (formerly known as Homily Editor). This powerful tool also simplifies creating slides, handouts, and discussion guides. When you're ready to speak, engage Preaching Mode for a fluid transition to a dynamic presentation platform. In Verbum 9, this feature includes updated controls and a new sidebar for quick access to homily metadata or a homily-linked notebook.
Learn how to use Homily Builder
Preaching Mode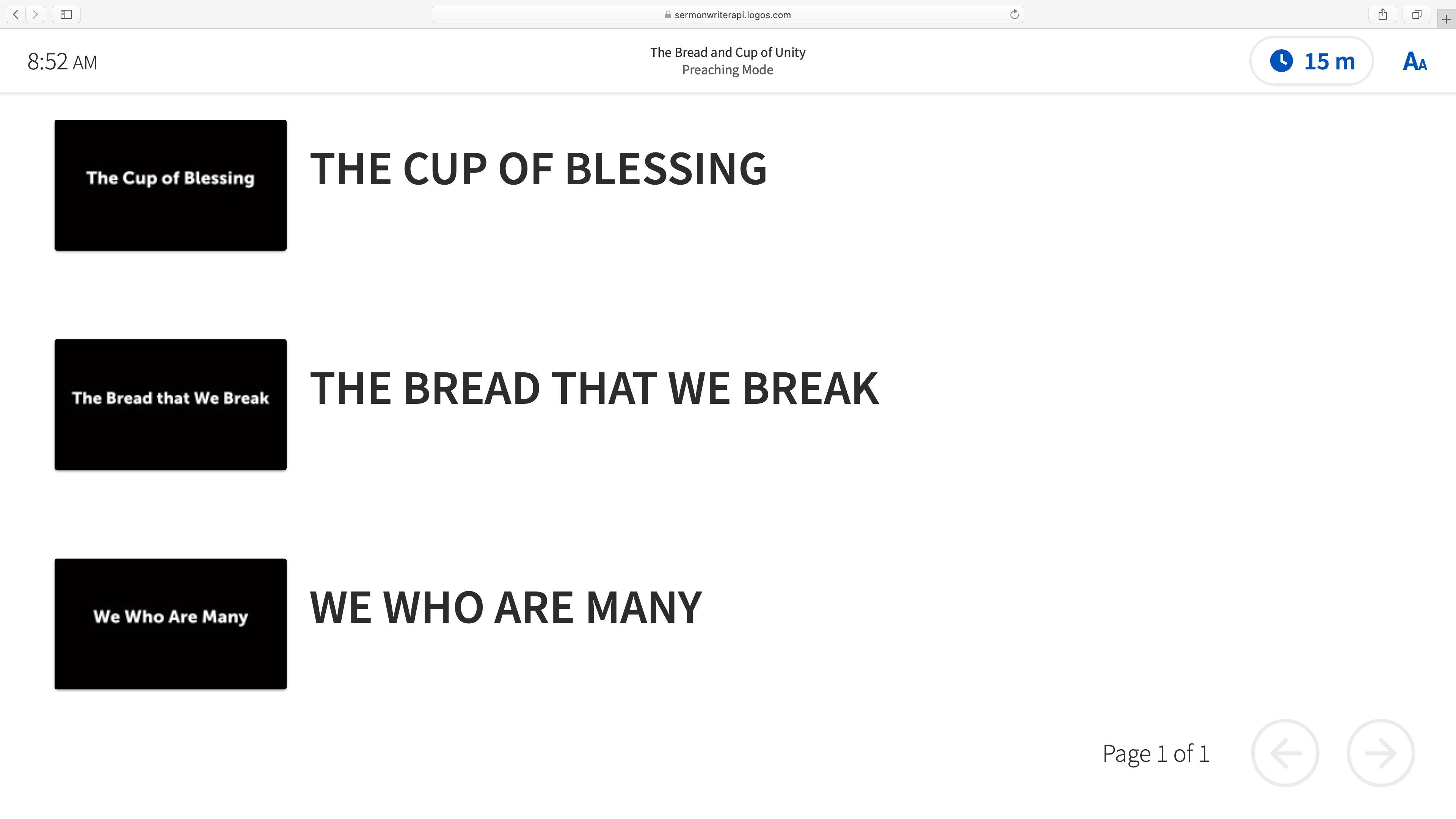 Done with your homily prep and ready to preach? With a single tap, you're ready to navigate your notes or manuscript smoothly. View your current slide at a glance and keep track of your timing as you speak. With the power of Verbum, you can seamlessly prepare your homily on your desktop and present it using a mobile device.
Learn how to use Preaching Mode
Factbook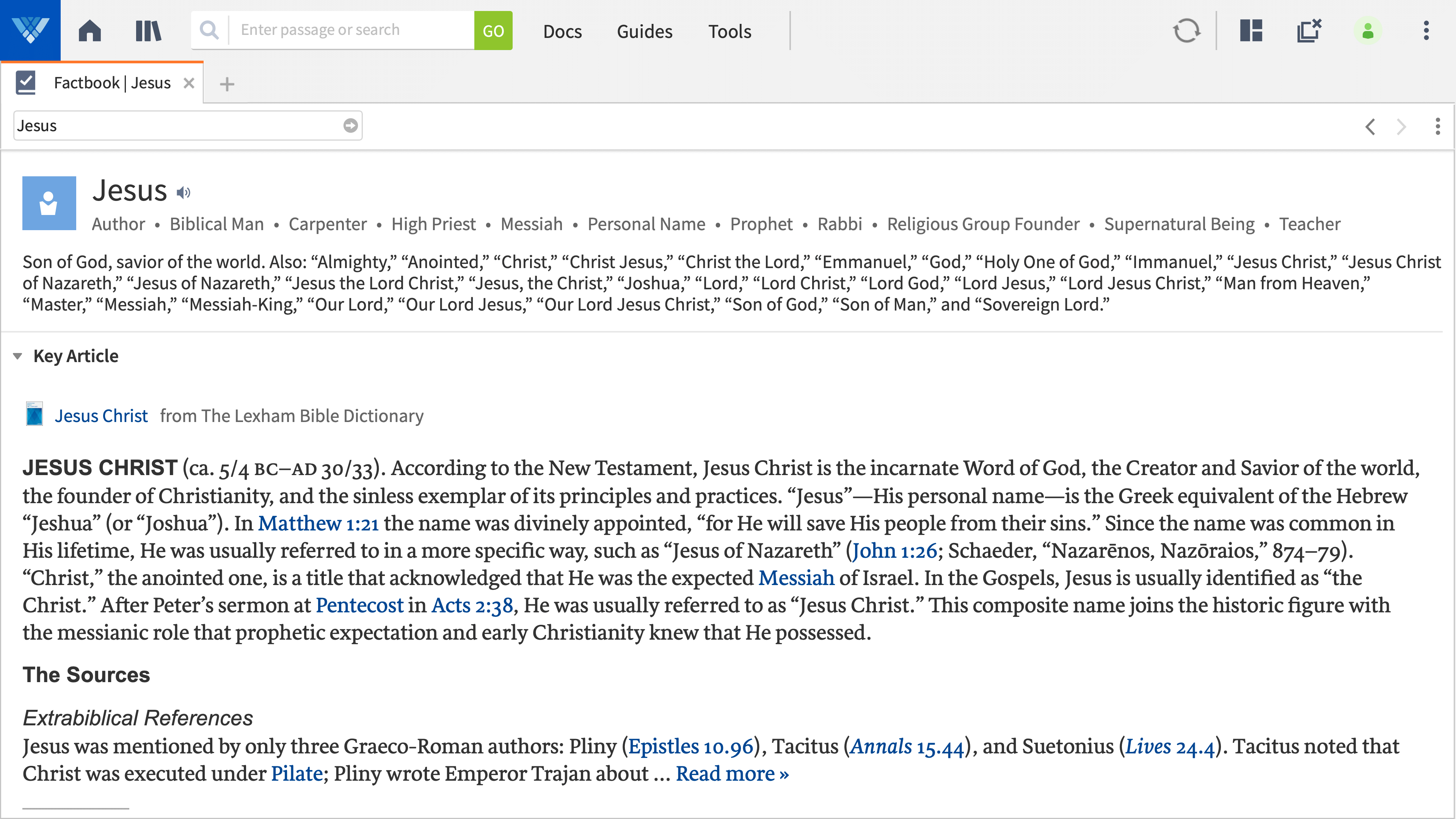 No matter whether you're looking for more detail about biblical people and places, background on significant historical events, or insight into a theological topic, the Factbook will get you started. The Factbook is one of the most powerful features of Verbum, and it makes almost any biblical or theological term easily searchable. In Verbum 9, Factbook has received a complete overhaul and expansion with over ten times the entries of the Verbum 8 version, making it easier to find topics, explore key articles, and more.
Counseling Guide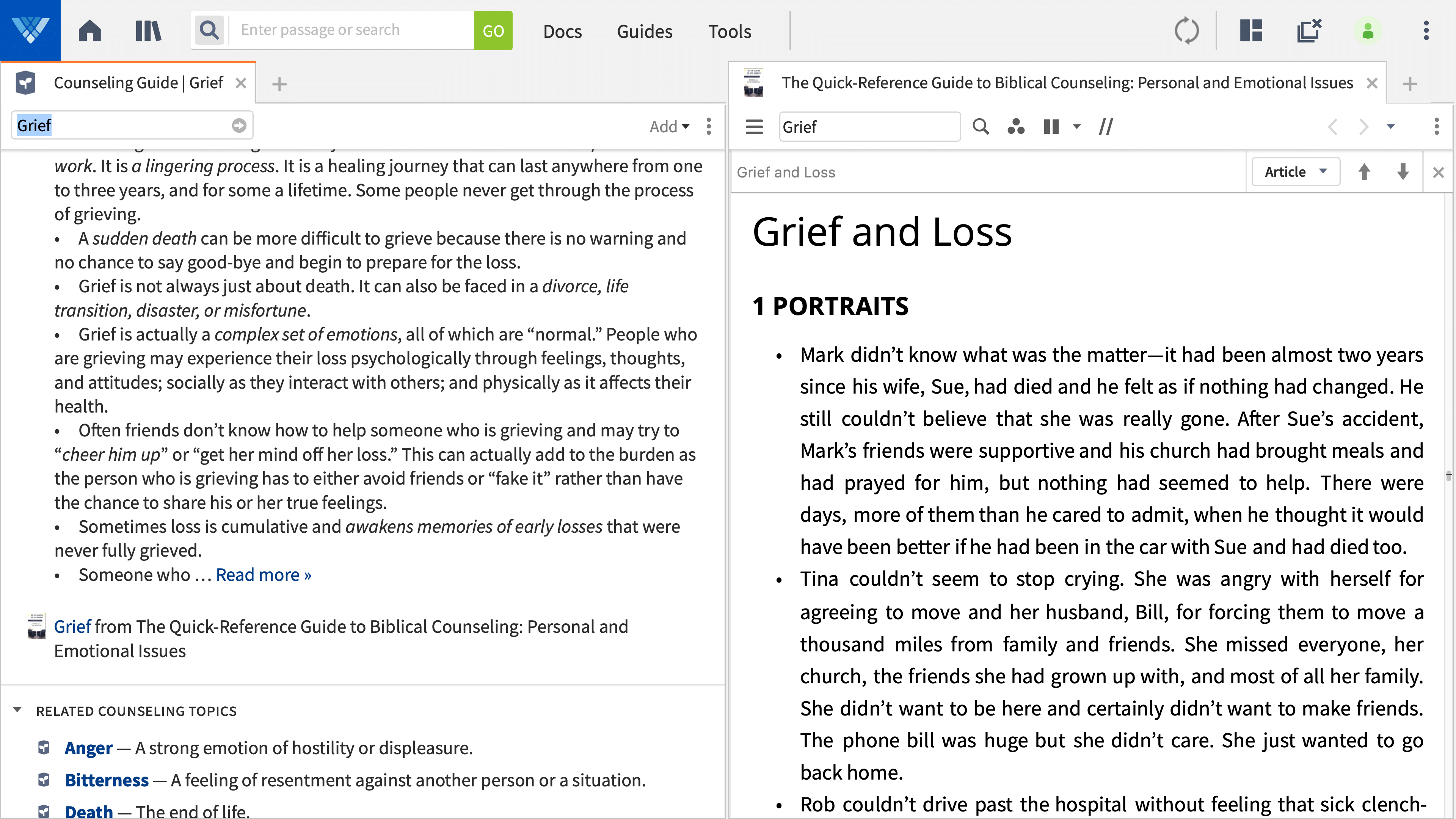 As you walk through all of the joys and challenges of life in this world, you can quickly tap into the wealth of information contained in the Counseling Guide to help you find wise spiritual counsel. Enter a topic into the Counseling Guide (like depression, loneliness, or trust), and you'll find resources and tools that will equip you to better understand the topic in question.
Learn how to use the Counseling Guide
Commentaries Guide Section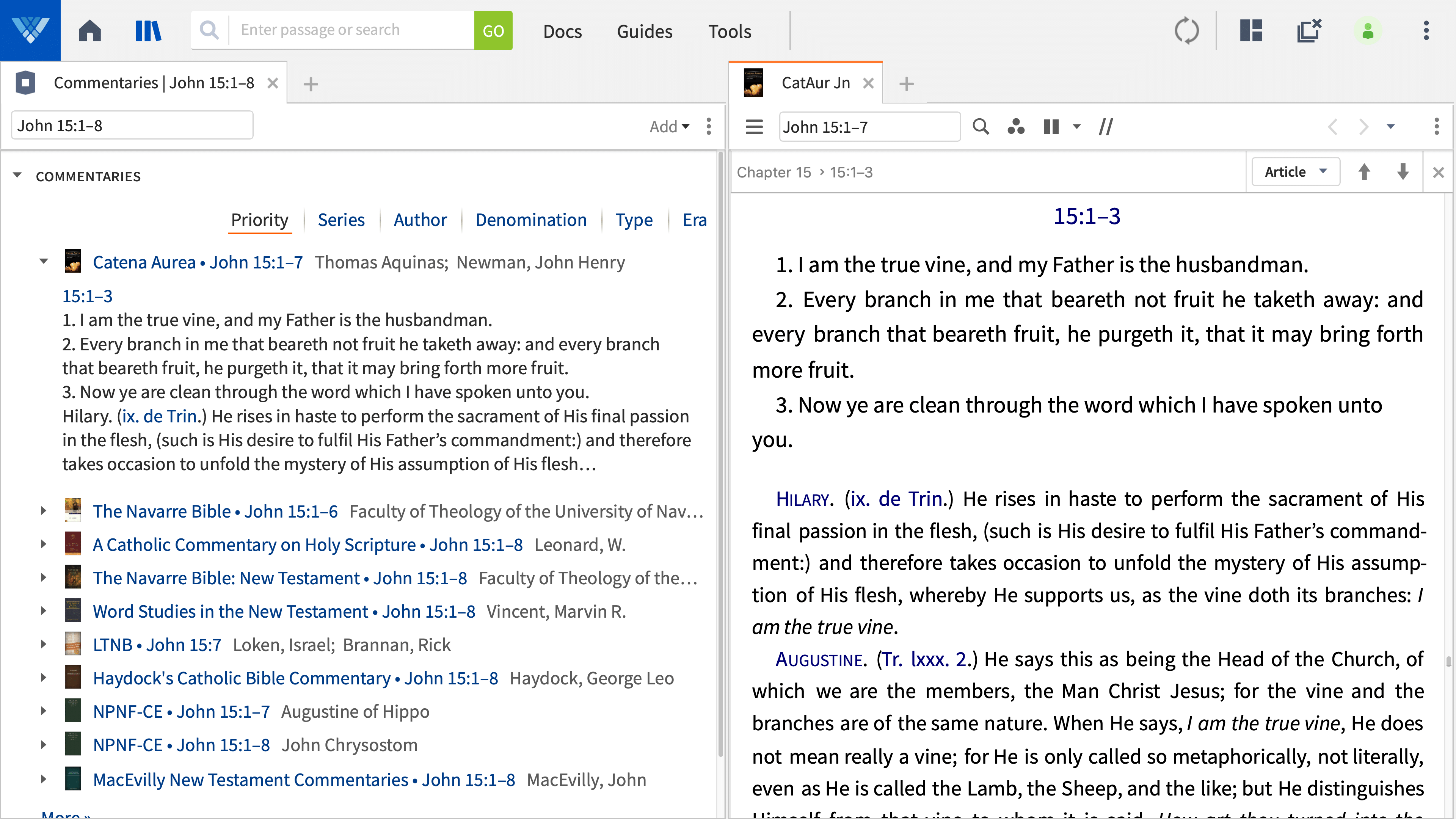 The Commentaries guide section displays entries from the commentaries in your Verbum library on a given passage. The refreshed Commentaries section in Verbum 9 makes your commentaries easier to use by displaying your results by priority, author, denomination, and more.
Learn how to use the Commentaries guide section
Reading Plans and Read Later List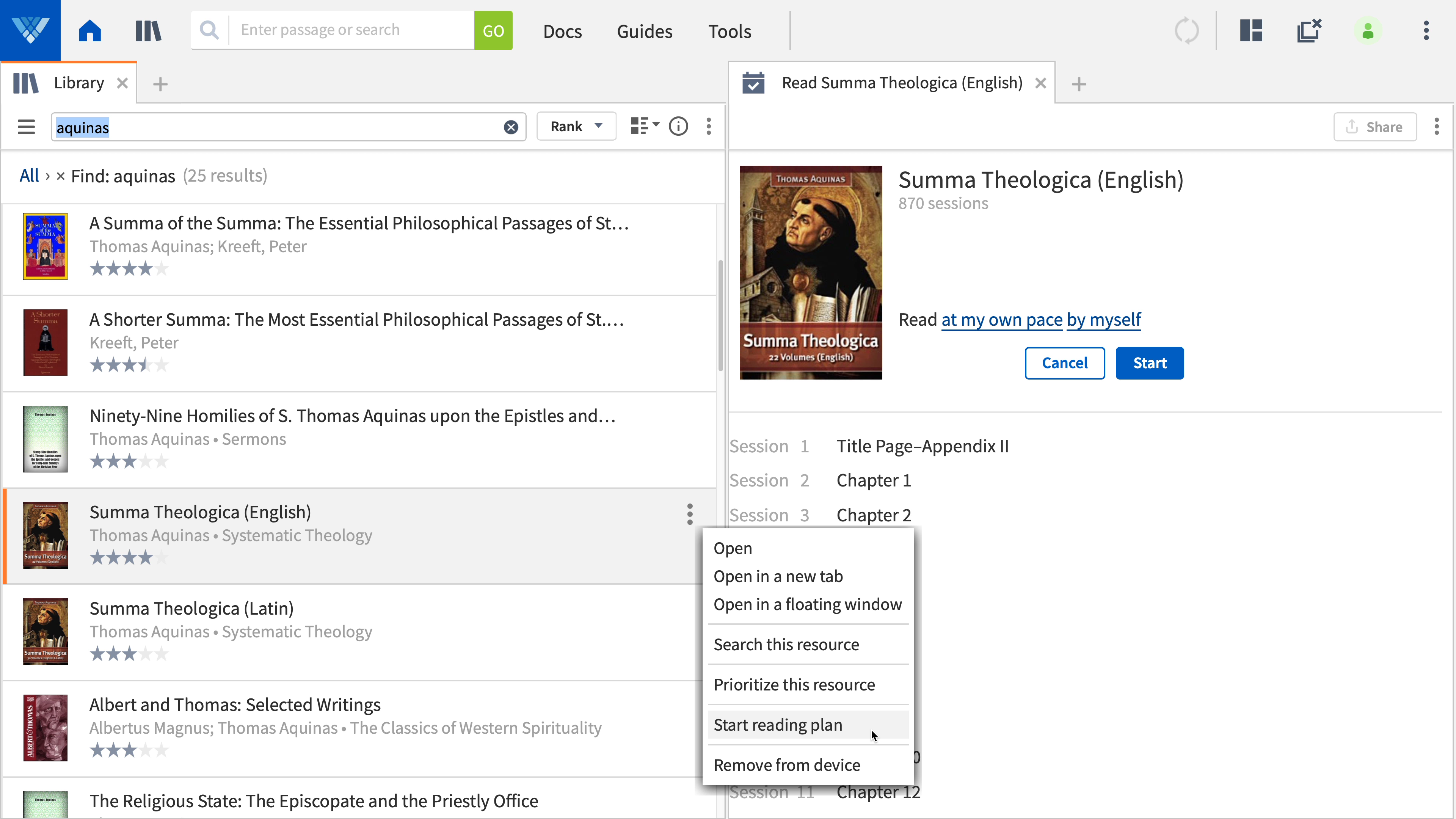 Verbum 9 introduces a new workflow for creating reading plans that is optimized for reading books chapter-by-chapter at your own pace. To access this new reading plan builder, select a resource in the Library, then click Start reading plan in the Library's information panel.
The Read Later list in the Verbum mobile app allows you to create a queue of books you'd like to read in the future. In the Verbum desktop application, you can find and manage books on your Read Later list via the tag #ReadLater.
Learn how to use reading plans
Charts Tool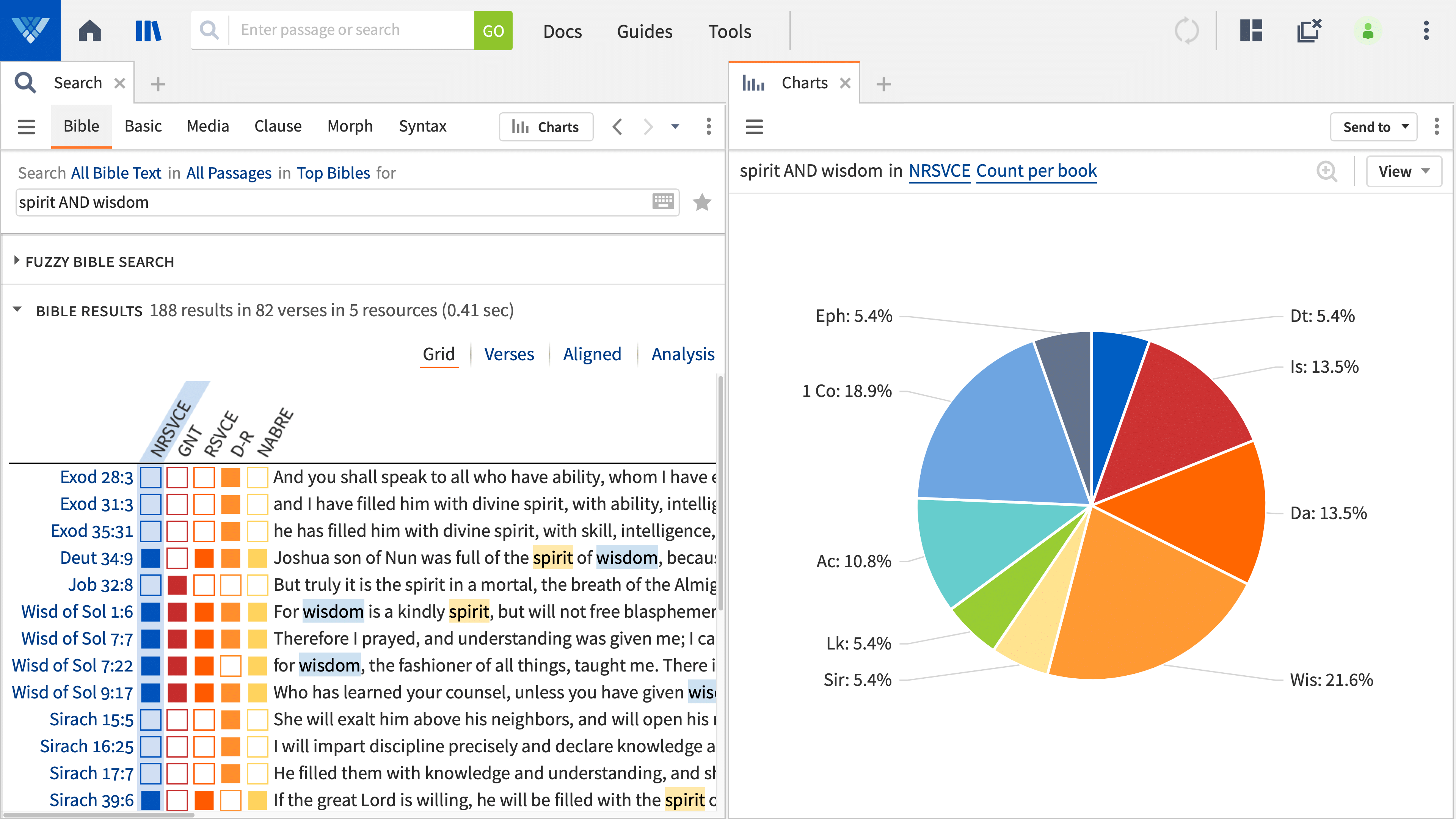 Charts tell stories, attract attention, and add impact to your study and presentations. With the Charts Tool, Verbum does the creative work for you, instantly transforming a search into an eye-catching visual. In Verbum 9, the Charts Tool replaces the Graph Search Results function in Verbum 8 (and earlier).
Learn how to use the Charts Tool
Dark Mode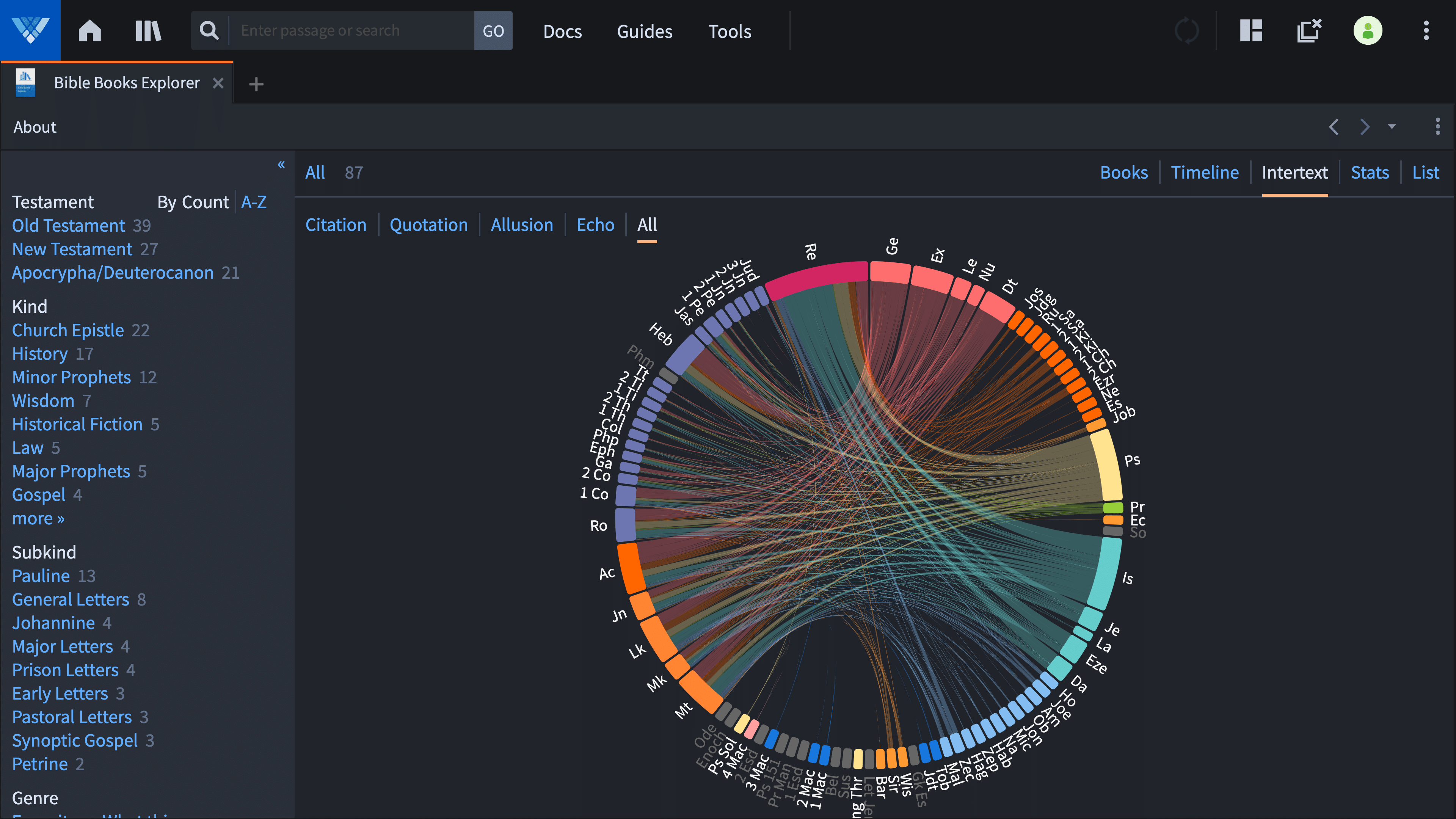 Verbum gives you the ability to run the program in either light or dark mode. Now you can reduce eye strain in low light environments or simply enjoy a different contrast as you study. You can activate Dark Mode from the application menu.
Bible Books Explorer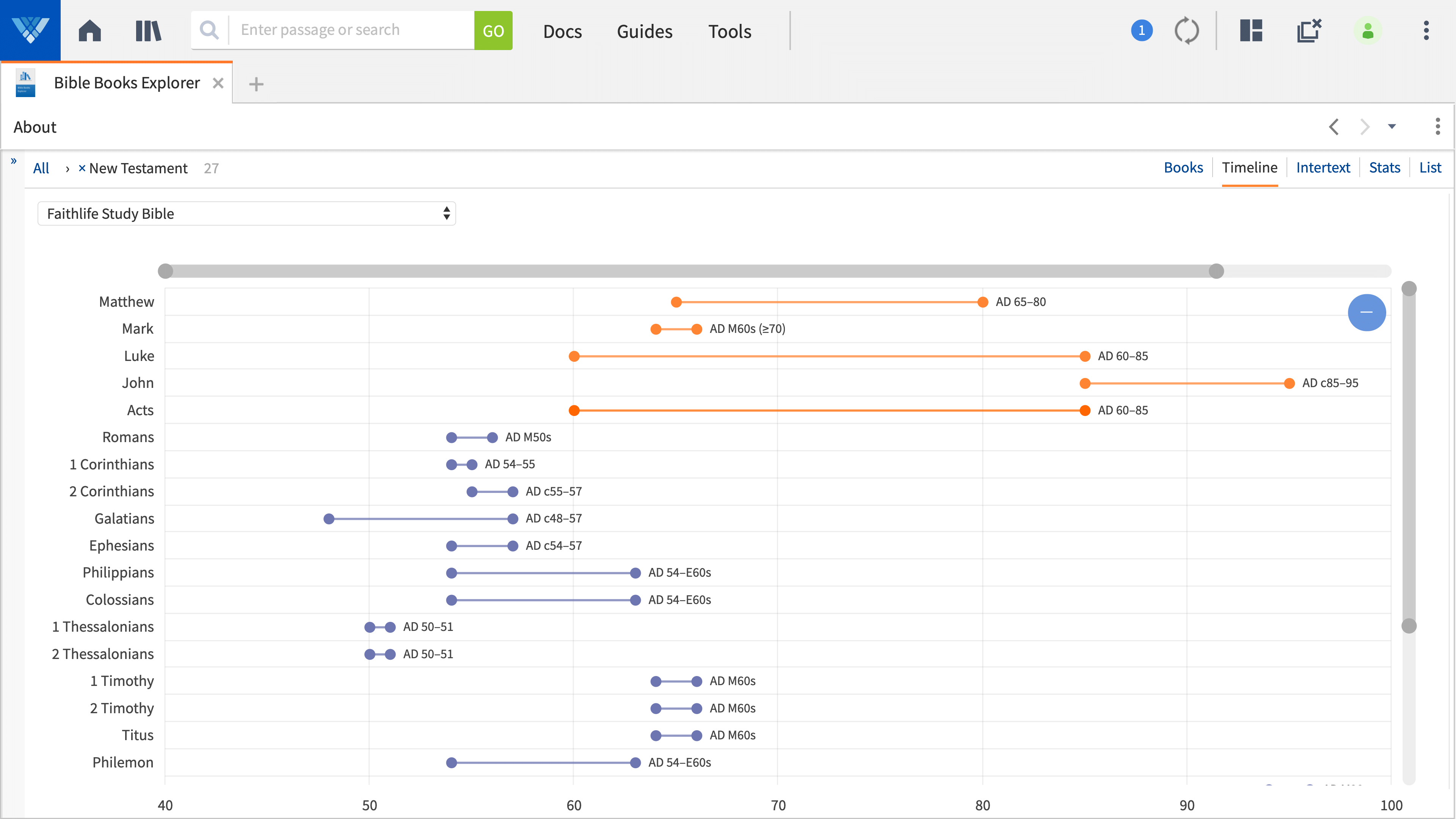 Browse and compare the books of the Bible by genre, group, author, length, and more. The Bible Books Explorer provides a birds-eye view of the unity, diversity, and interconnectedness of the biblical text. Access the Bible Books Explorer via the Library.
Learn how to use the Bible Books Explorer
Shortcut Folders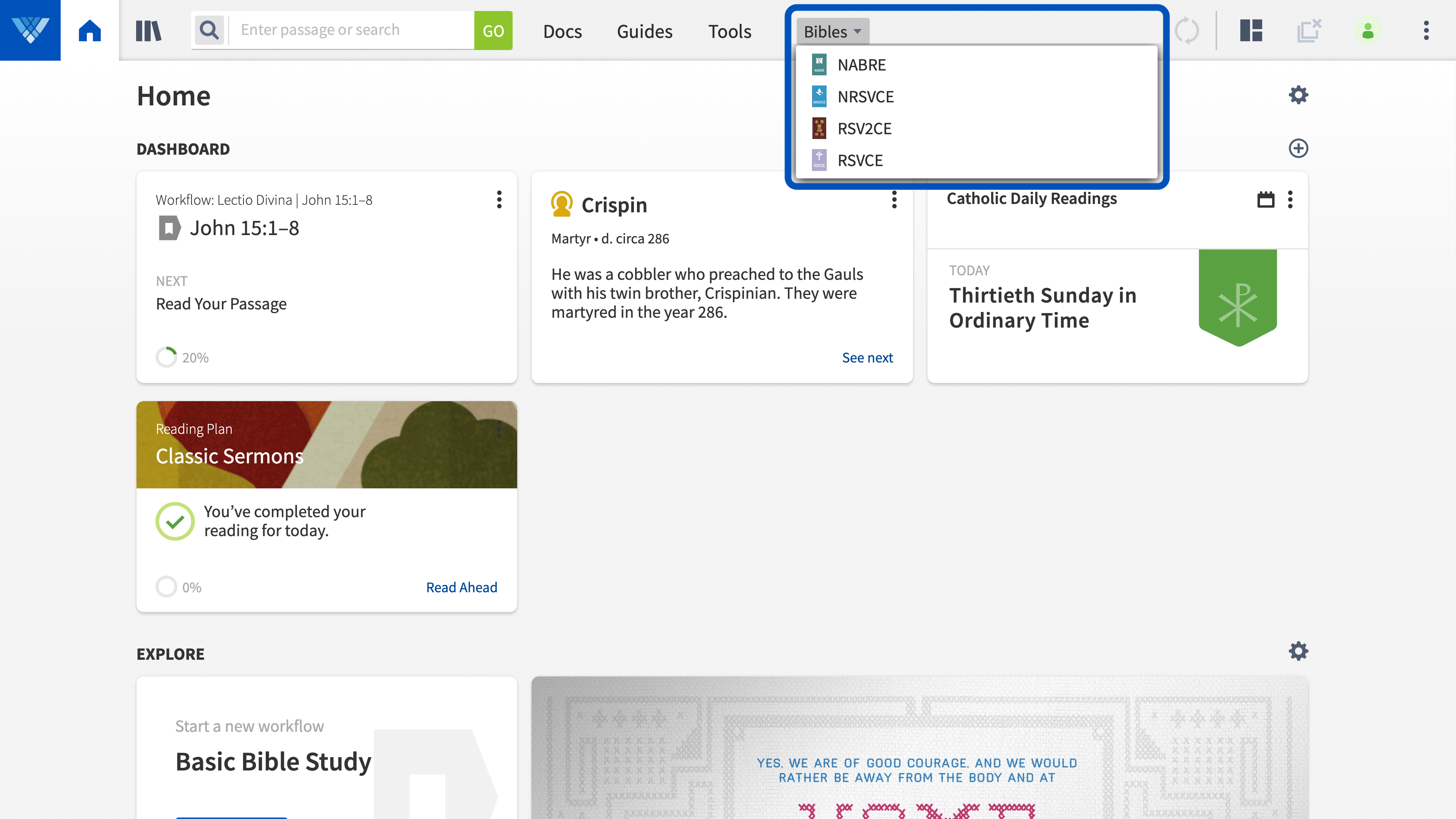 With Verbum 9, you can now place your shortcuts into folders for improved organization and easier access. Assign a shortcut to a folder by right-clicking it and providing a folder name.
Images in Notes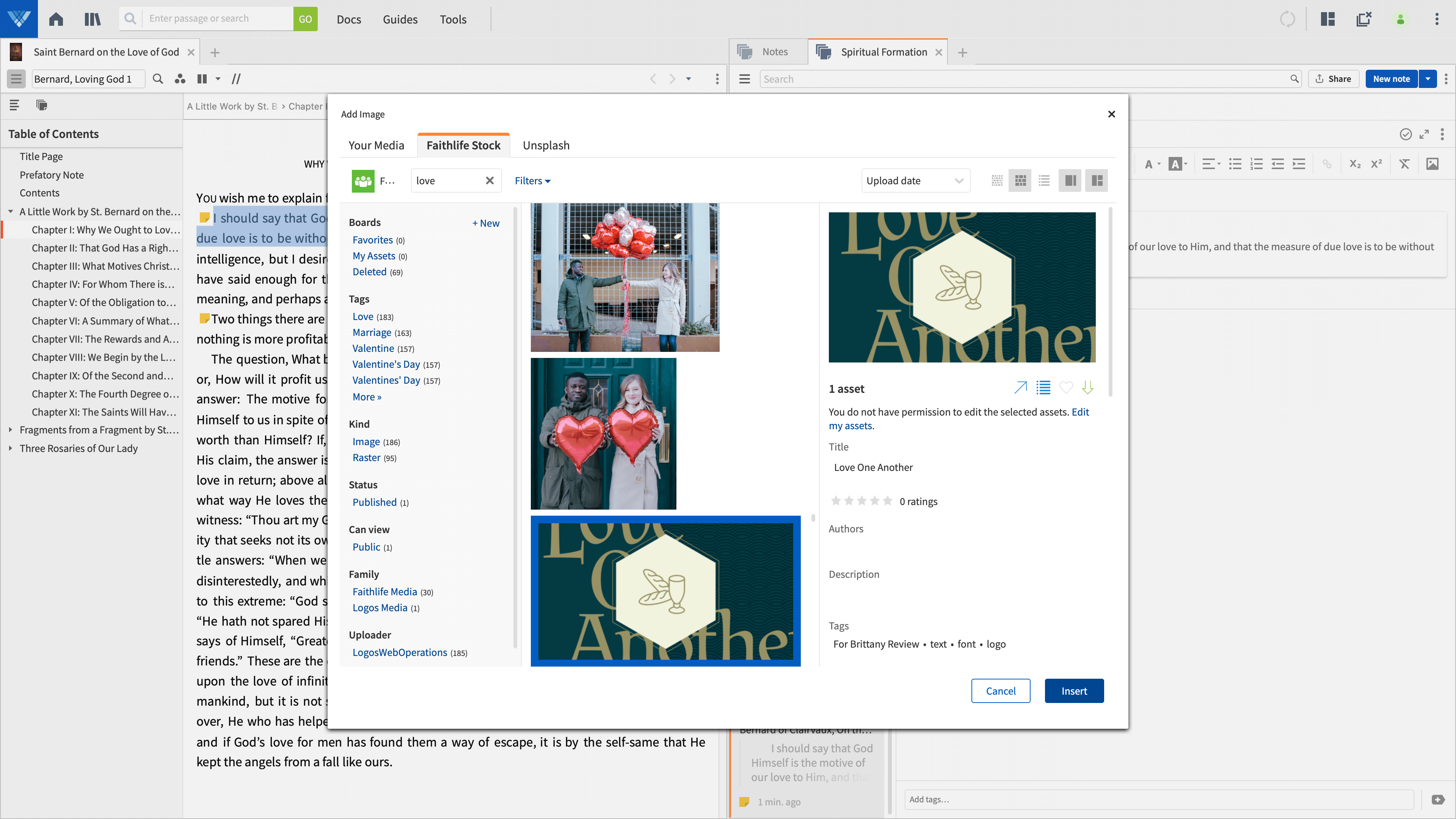 The Notes Tool now supports inserting images into Notes. You can copy & paste images from the Media Tool or other Verbum resources, or you can insert images from Your Media, Faithlife Stock, or Unsplash. To insert an image from your computer, drag it into the Your Media tab, then select it, and click Insert.
Docs Menu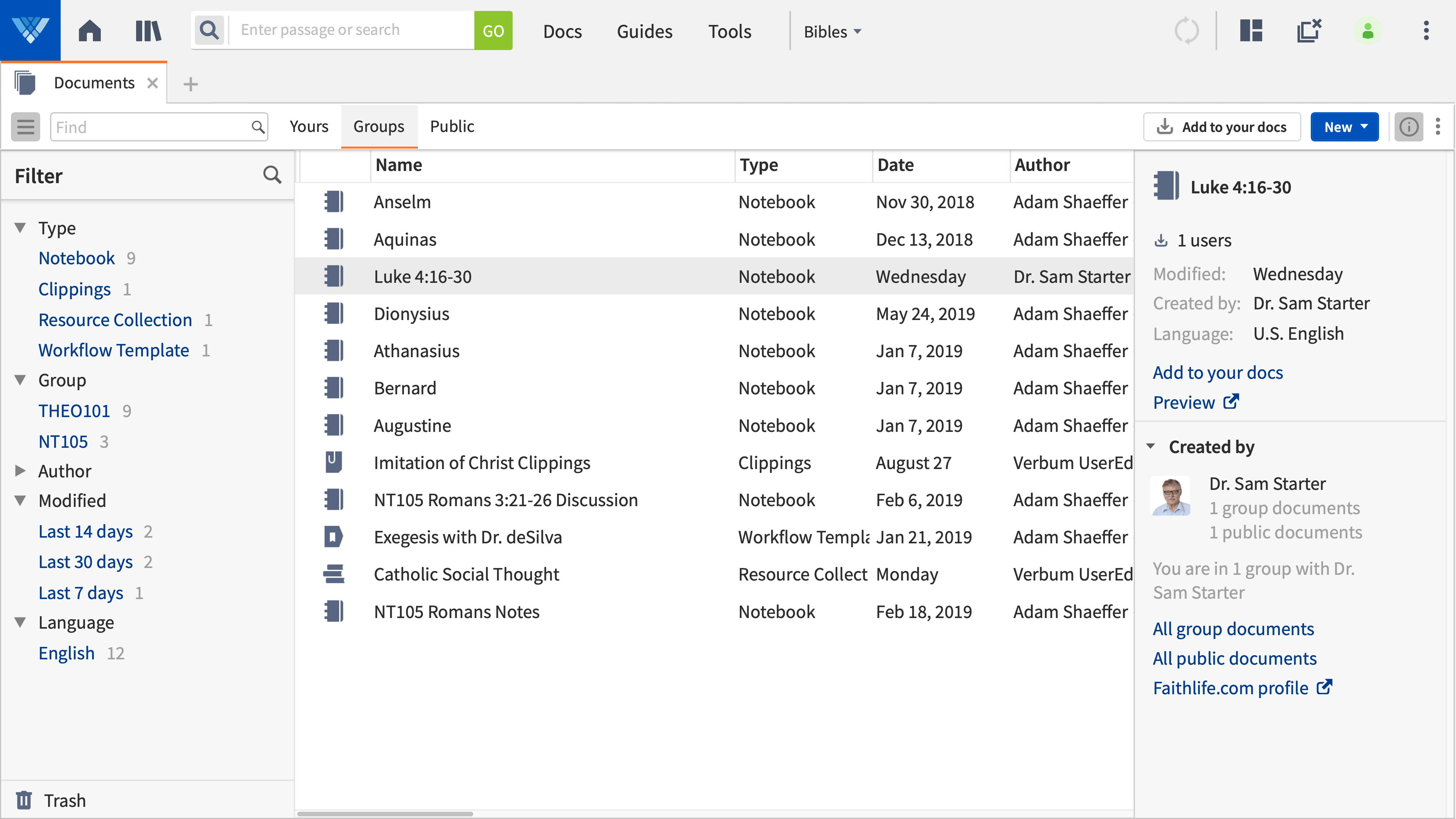 Verbum 9 adds an information sidebar to the Docs menu that allows you to quickly edit your document's metadata. Documents shared with groups or as public now have a Users column that displays how many Verbum users have downloaded a particular shared document.
Learn how to manage your Verbum documents
Profile Menu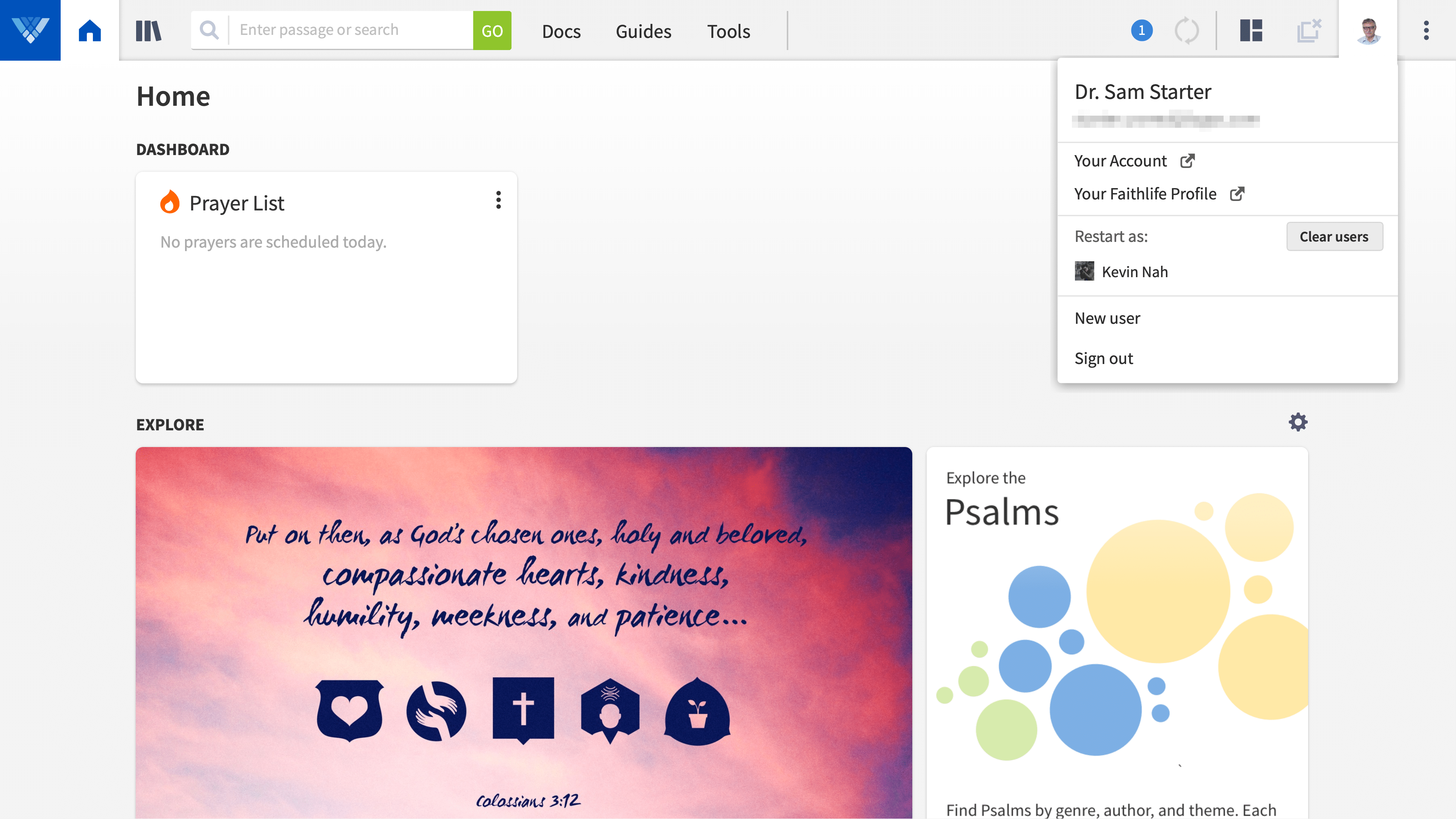 You can now sign in and out of Verbum using the new Profile Menu. Each account you sign in with will download and index its associated Verbum resources, and will only have access to those features that are licensed to it.
Learn more about using the Profile Menu
Application Menu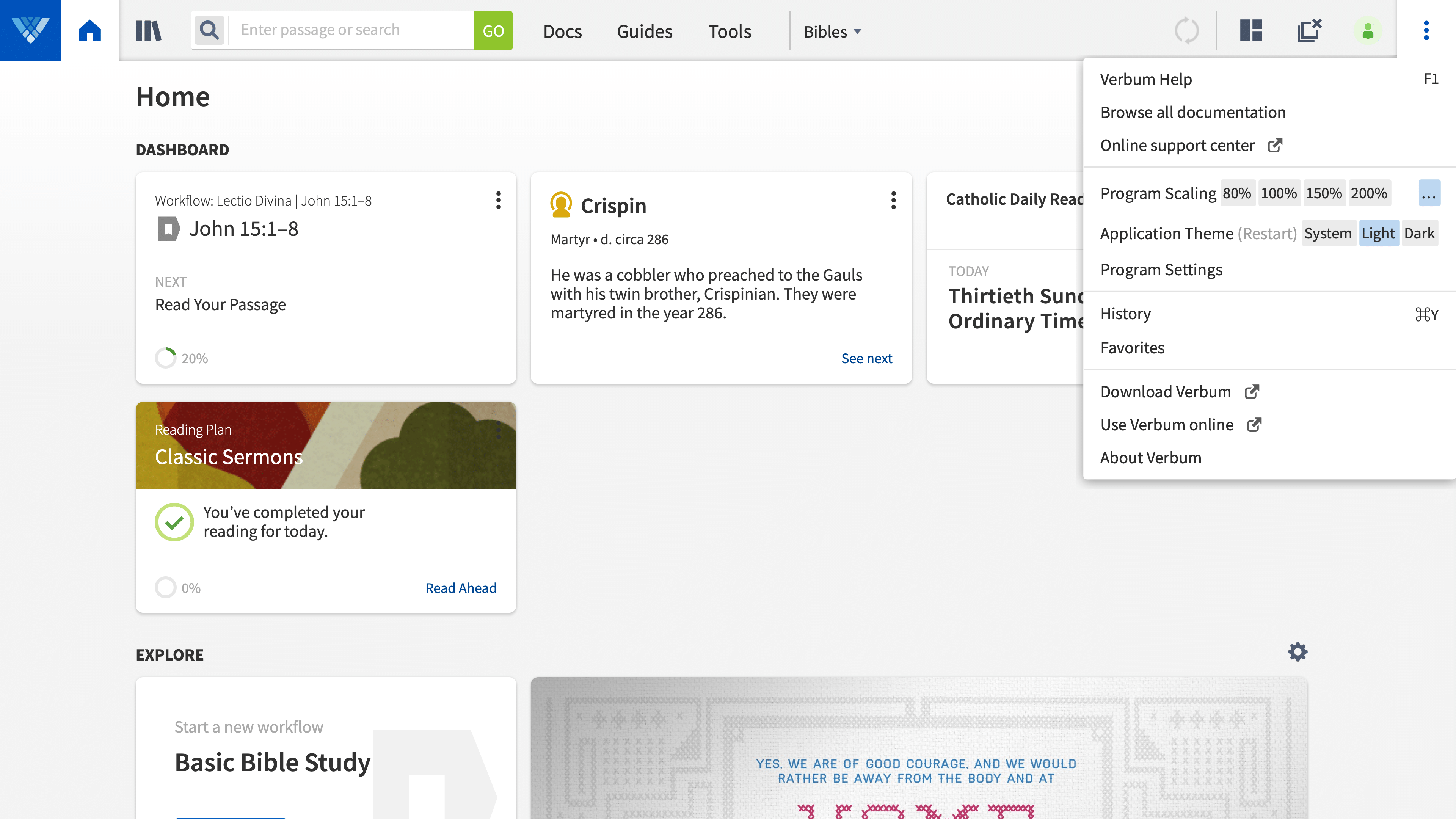 In Verbum 9 the application menu has been streamlined and features quick access to program scaling, dark mode, and more.