The Important Passages guide uses aggregated data from lexicons and commentaries to list, map, and categorize cross-references across the biblical text. While traditional cross-referencing tools provide a list of related verses and passages, with the Important Passages guide you'll be able to determine what connects related verses and passages as well as where the strongest connections exist.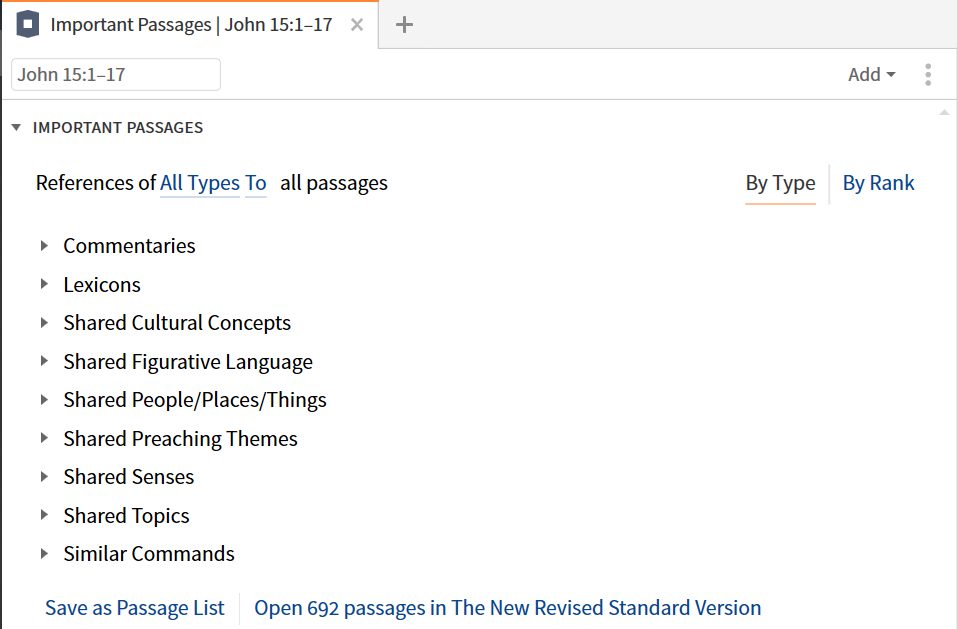 Get Started
Click Guides, begin typing "important" into the Guides search box and click Important Passages.

Enter a passage in the Reference box at the top of the panel.
Click All Types above the results and choose from the list to limit the type of references that are displayed.
You can choose whether the displayed references are To the passage you entered or From the passage you entered by clicking To, which is located next to All Types.
On the same line, you can choose whether results are grouped By Type (which groups results by types such as Commentaries, Lexicons, or Shared Topics) or By Rank (which lists results in order from highest to lowest reference frequency).
In the Type view, when you expand a section, the guide displays all the verses listed according to the selected reference type. A More link will display at the bottom of each section until all the references are displayed. In the Rank view, each reference will display a Bible verse (with a hyperlink to your preferred Bible), and the reference types the verse matches on. This section will also display a More link until all the returned references are displayed.
At the bottom of the panel, you will also find links to Save as Passage List and Open # passages in [Preferred Bible]. Clicking the second option opens your preferred Bible in a filtered view that only displays the results of the Important Passages guide.
Open the Important Passages Guide Section in Verbum