A well-organized chart attracts attention and adds visual impact when studying and presenting data. The Charting Tool in Verbum makes it easy to display your search results. It is also simple to export a chart for printing or to use in a presentation. Choose from a variety of graph styles and display your results based on how often they occur in a book or chapter.
Skip ahead to:
1. Open the Charts Tool
Click Tools and enter Charts in the search bar. Click Charts to open the tool.
2. Start a search
Click Start a new search. Verbum opens a new search panel.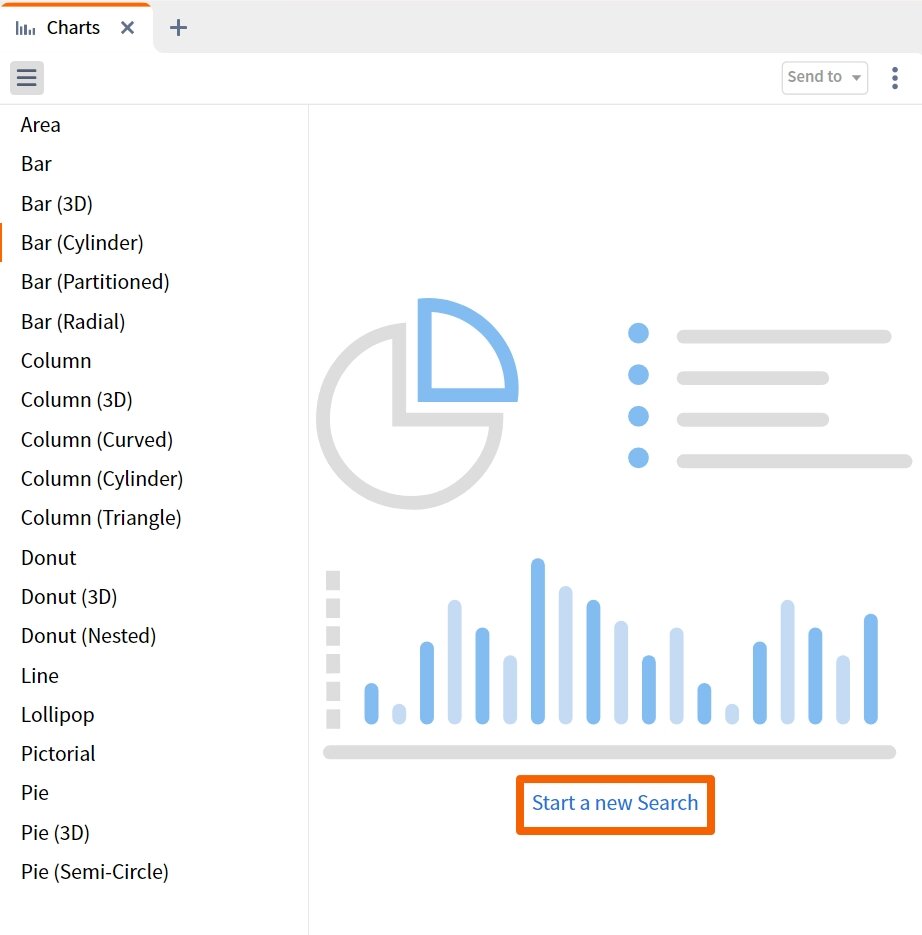 Type your search terms and press Enter. (Learn more about searching in Verbum.)
For example: In Ephesians 1, Paul prays for believers to be filled with the Spirit of wisdom. Find all the places in Scripture where spirit is used in conjunction with wisdom. Type spirit AND wisdom and press Enter.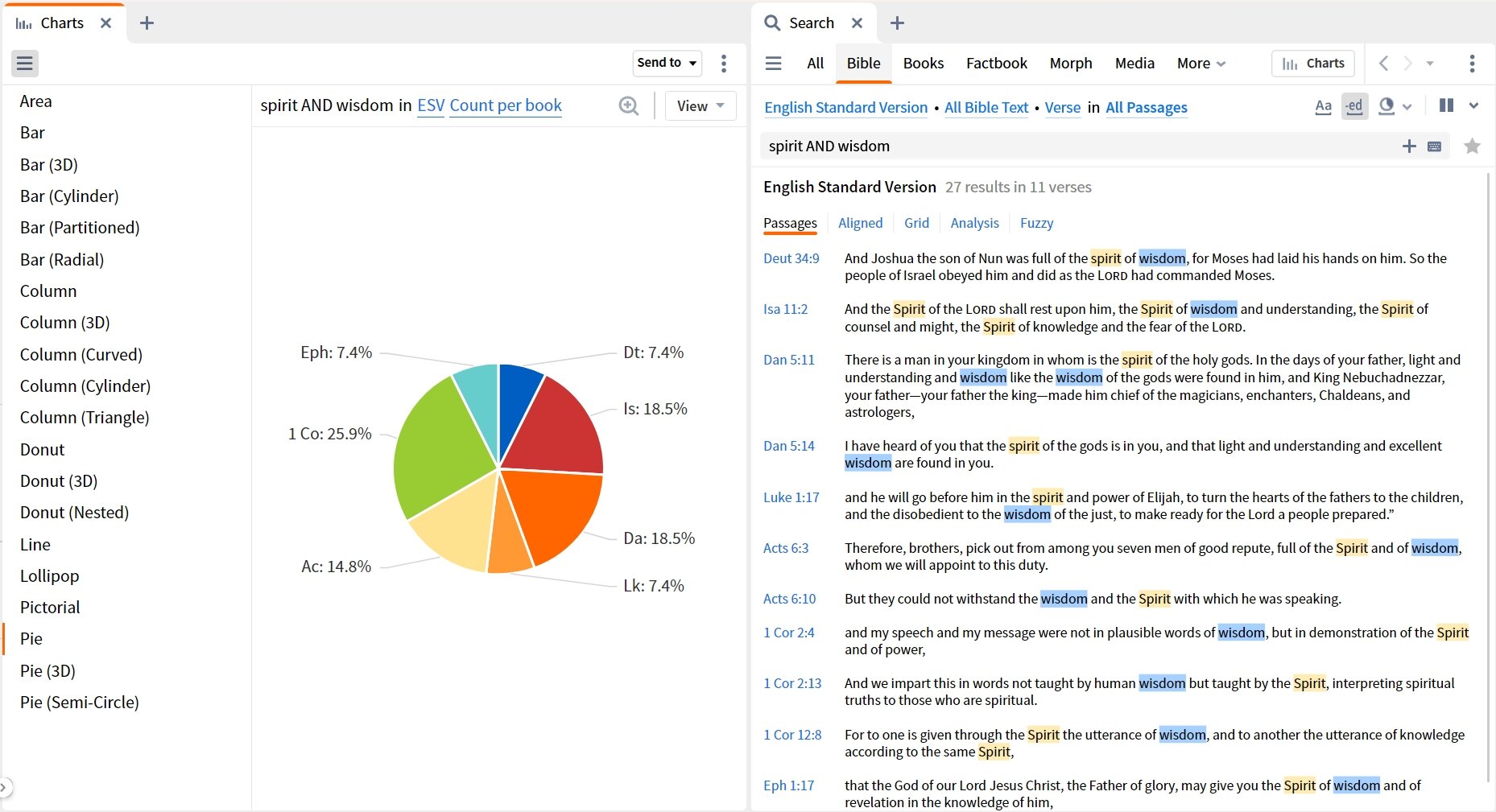 Try this search in the Verbum desktop app or in the Verbum web app.
3. View results in a chart
To display the results of a search in a chart, click the Charts button

.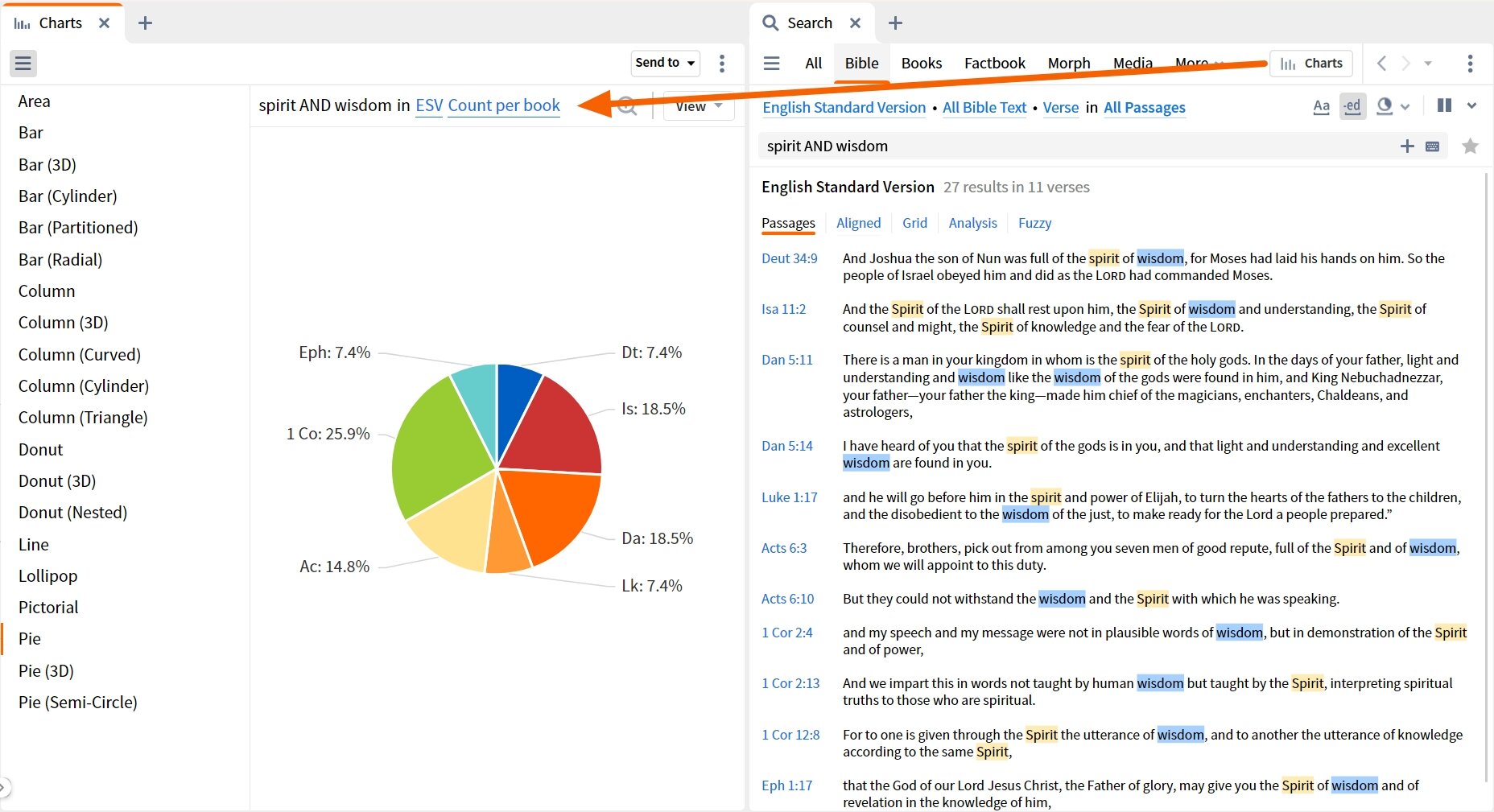 4. Customize a chart
The Charts tool provides you with many options for displaying your search results, including a variety of chart styles as well as which of your search versions you want to display. You can even customize the frequency of your display.
Chart type
Select your desired graph format from the options on the left side of the Charts panel. (Choose to display or hide these options by clicking the Menu icon

in the upper left corner of the Charts panel.)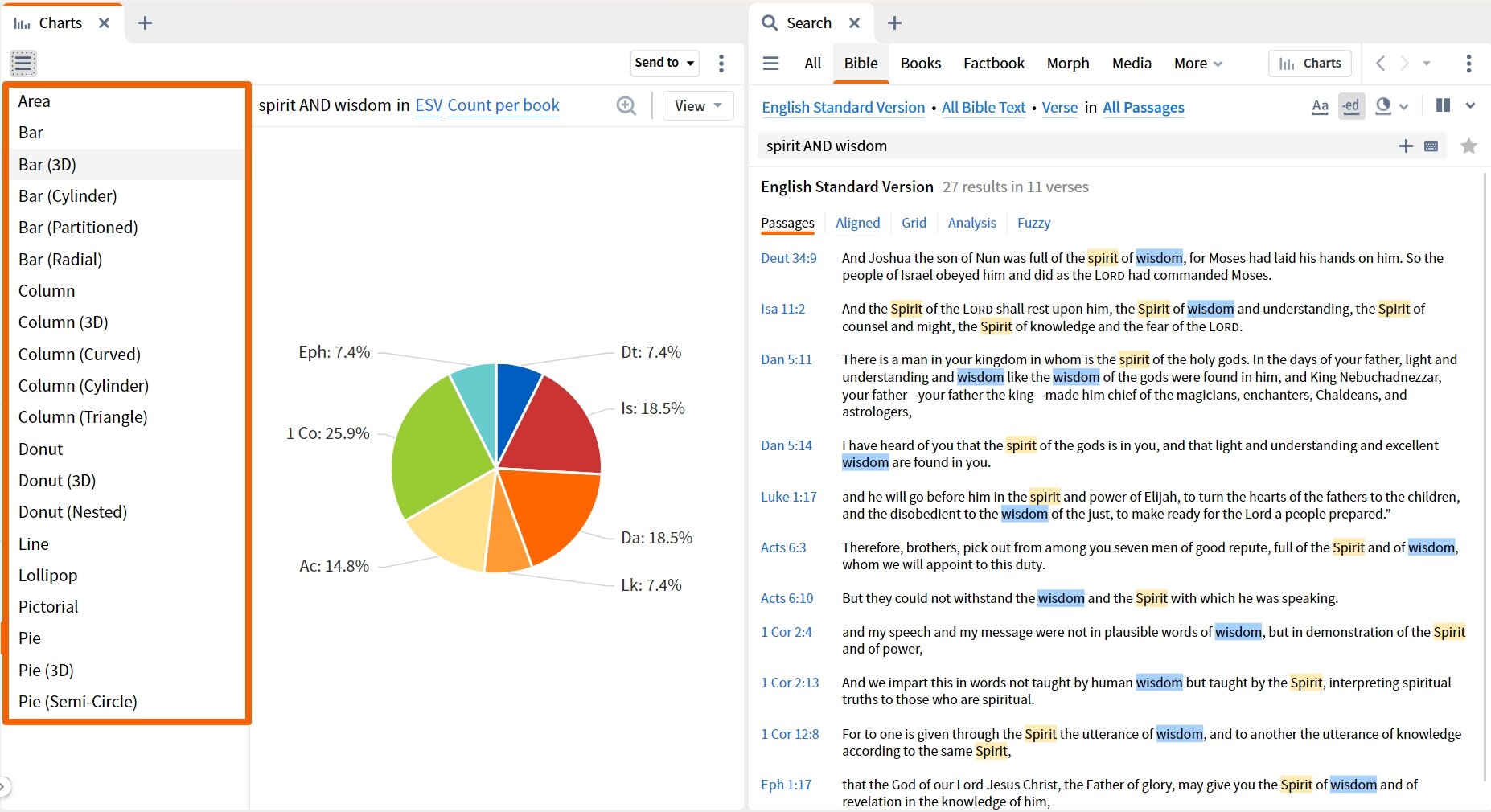 Display version and frequency
When you search multiple translations or a collection (e.g. Top Bibles), you can choose which resource results display on your graph. For example, the search below for spirit AND wisdom used Top Bibles. However, you may only want to display one of the versions in your chart. To remove resources from your graph, click the link and uncheck the boxes you want to remove. To change the frequency displayed on your chart, click Count per book and select the frequency you want to display.
Use the Zoom feature
Depending on your search results, you may want to focus on a portion of your graph. While holding Z+left click and drag a rectangle around the area of your chart you want to zoom in. Verbum magnifies the selected area. Click the Zoom out icon

to return to the normal view.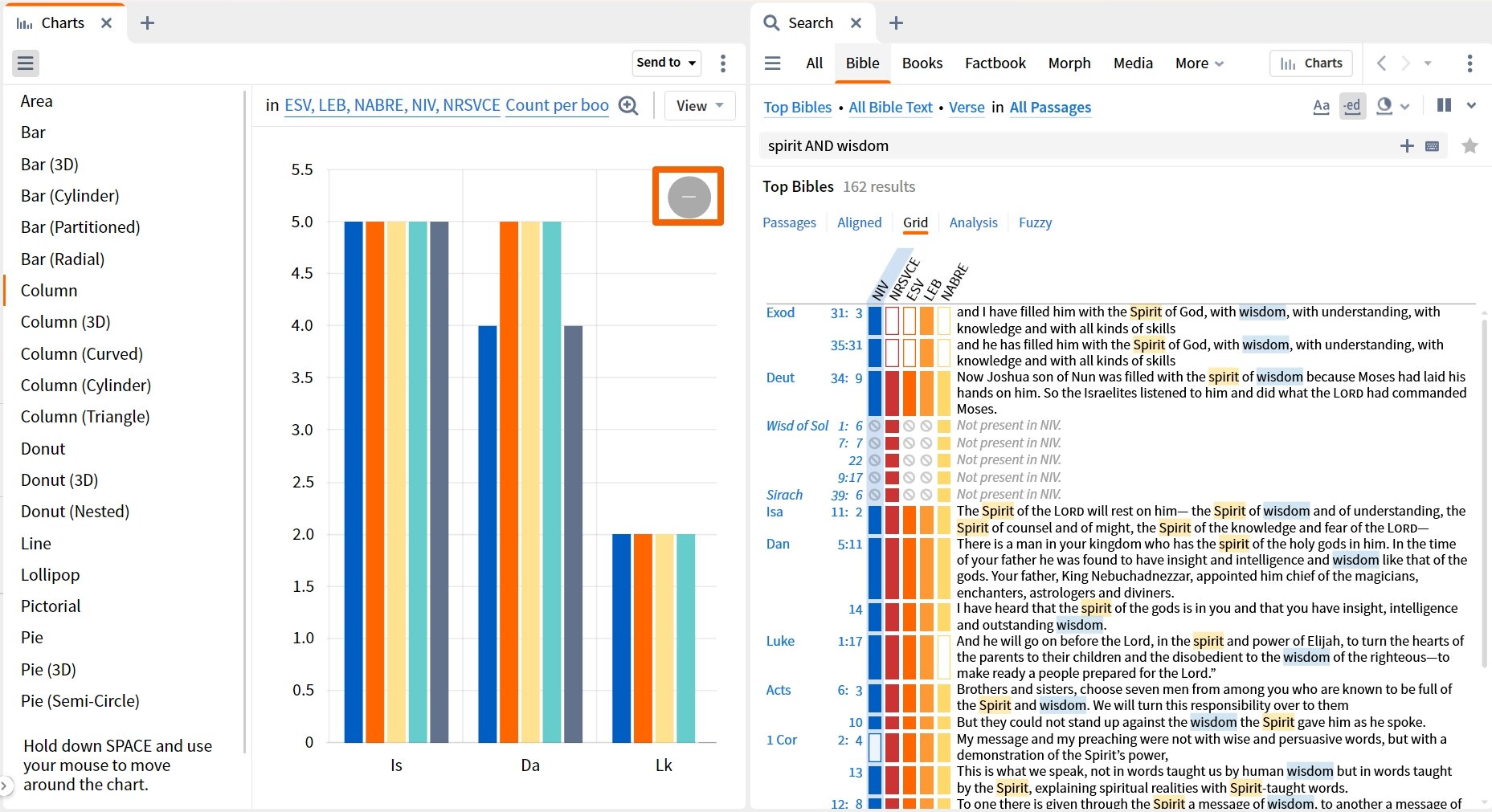 Additional View options
Click View to expand the dropdown menu. Depending on the chart type, you can check (or uncheck) boxes to Show the legend, Show zero results, and Show data value labels. You can also adjust the chart's theme from this menu.
Note: Some charts may not display properly when Show zero results is selected due to the type of search and frequency selected.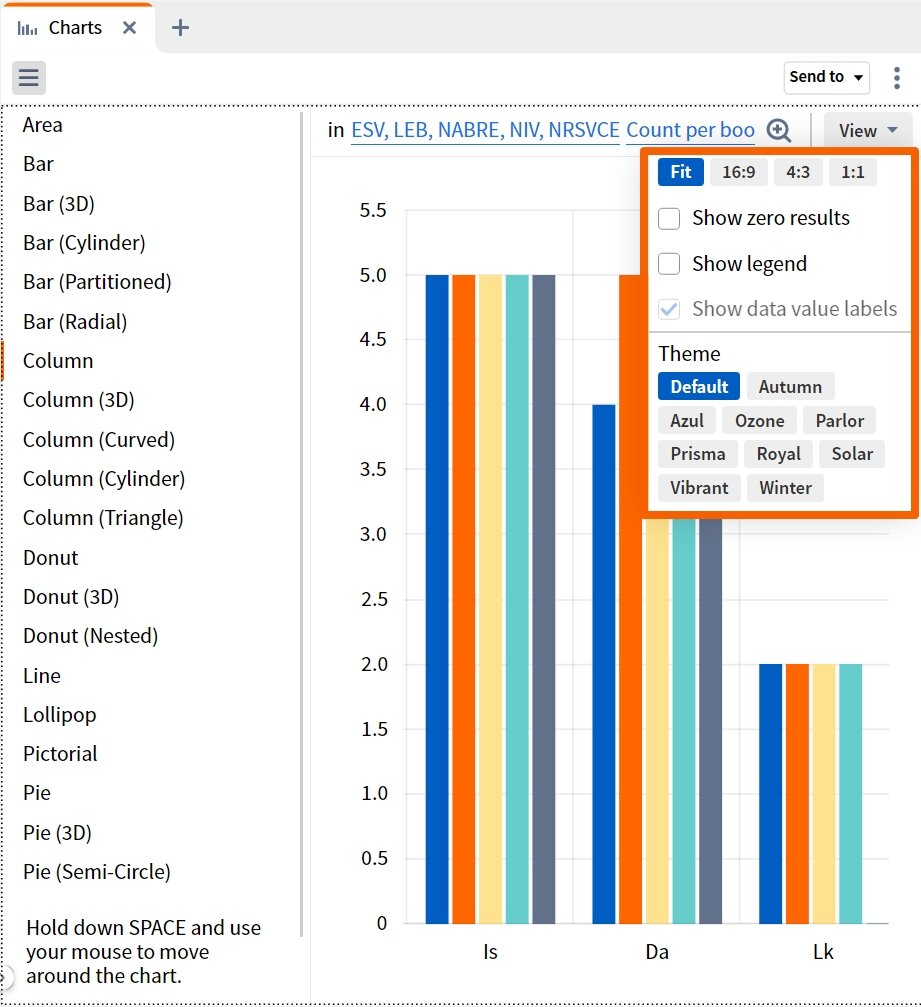 Adjust display range
The Area, Bar (Radial), and Line charts allow you to adjust the range of displayed results. Drag the slider
to adjust the display range.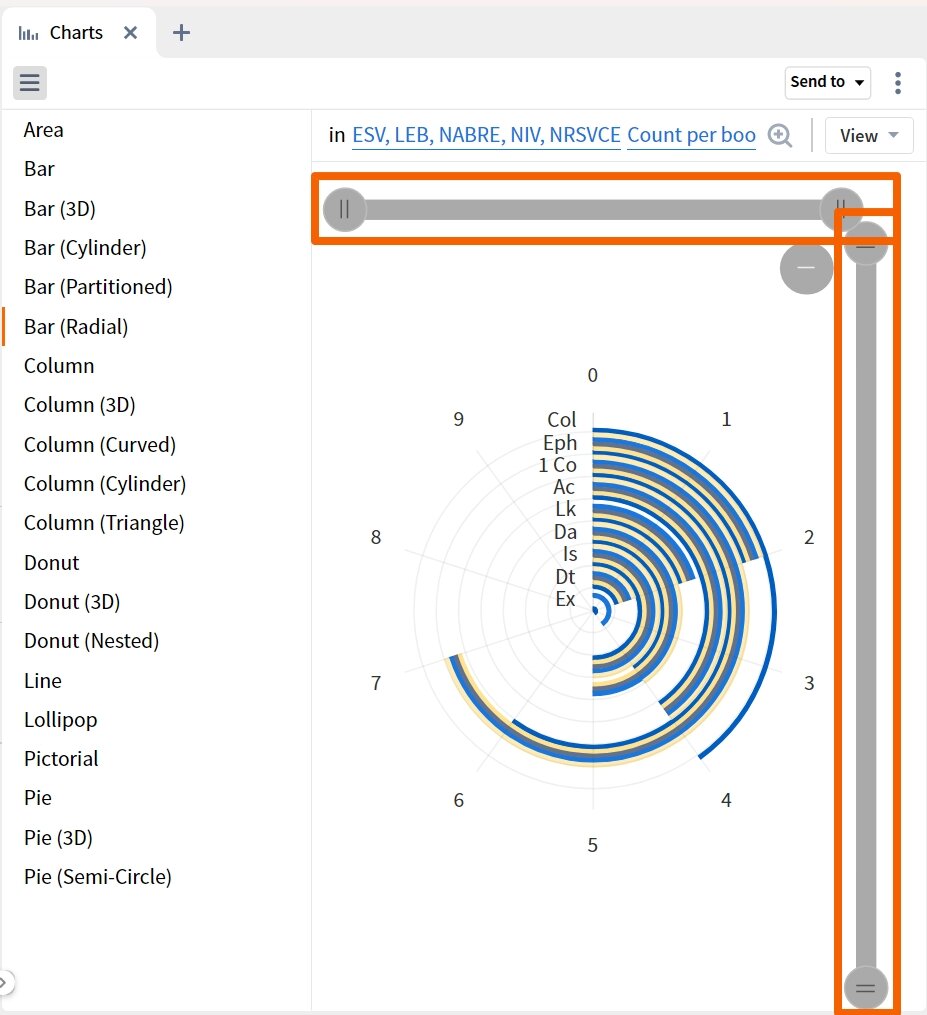 5. Export a chart
Verbum enables you to print your chart or use it in another application. Clicking Send to expands the dropdown menu to reveal export options: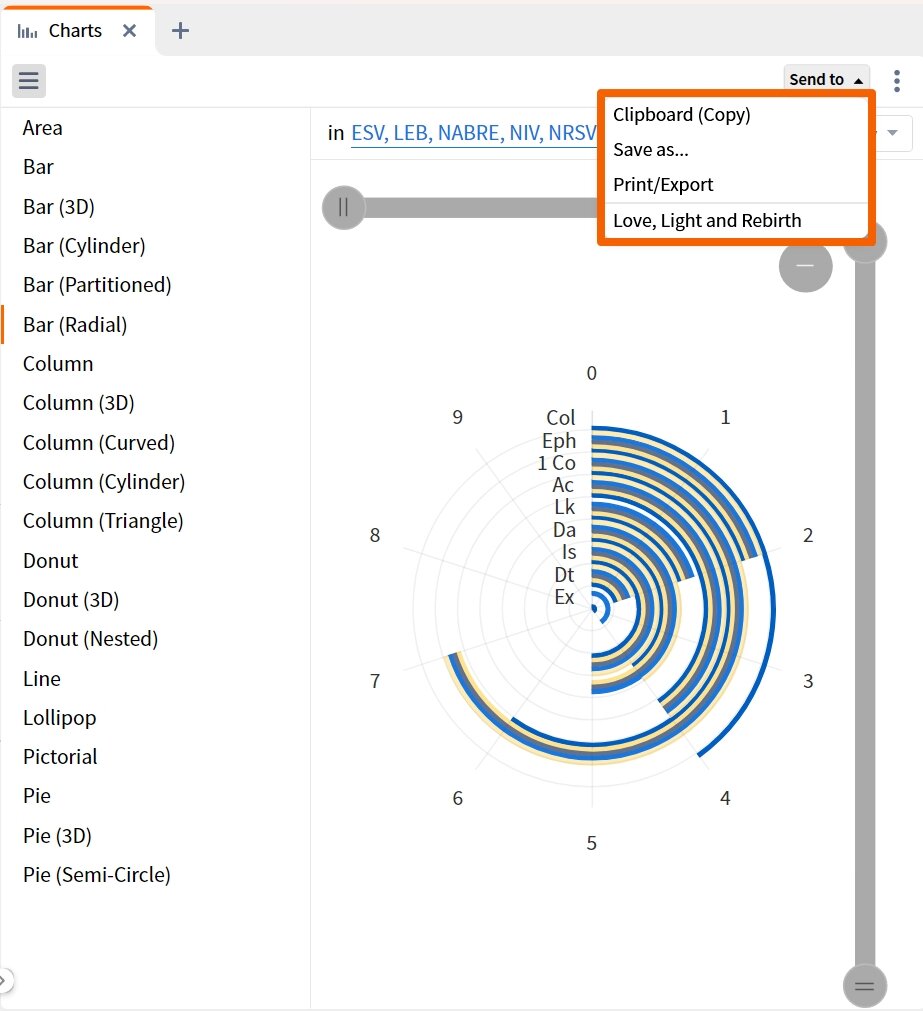 Clipboard (Copy) - Copies the current chart display to the clipboard. This is a good option if you want to insert your chart into a presentation such as PowerPoint or paste it into a word processing document.
Save as… - Allows you to save your chart as a .png file.
Print/Export - Opens a dialogue panel for printing options.
Homily Document - Verbum exports your chart to your most recently opened homily document and creates a slide for your chart. (Learn more about using the Homily Builder.)
Open the Charts tool in Verbum.