With parallel resource sets, Verbum allows you to choose which sets of resources will be accessible when using the left and right arrow buttons or keys.
View Parallel Resource Sets
Click the Parallel resource sets icon  on the resource toolbar.
Select the pre-built All parallel resources, or a user-defined collection by clicking the corresponding column header. The All parallel resources option will display all the items of the same type in your Library that address the passage displayed. For instance, if you have a commentary open to John 15:4, only those commentaries in your Library that address John 15:4 will be displayed.
Click a resource in the drop-down list to open that resource directly.
Edit Parallel Resource Sets
To edit a collection, right-click the title and choose Edit [collection] to open it in the Collections panel.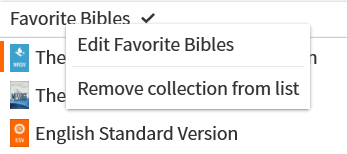 To remove a collection from the list of parallel resource sets, right-click the title and choose Remove collection from list. (The collection can be added again by editing it to reselect Show in parallel resources.)

Note: collections must have the Show in parallel resources checkbox selected to be listed in parallel resource sets.