What to Do If the Verbum or the Verbum Indexer Crashes
Problem:
When opening or using Verbum, you may receive the following message: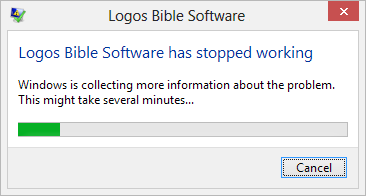 "Verbum Bible Software has stopped working"
May also occur for "Verbum Bible Software Indexer"
This is a generic response from Windows and does not provide much actionable data, but there are a few general responses we can apply to attempt to fix the most common causes.
Note: It is not recommended to attempt these solutions unless the problem occurs more than once. Sometimes an external variable can cause a "fluke" or one-time crash. These instructions are intended to resolve a recurring issue.
Solution 1: Update Verbum Manually
The most common causes of this problem occur when the application is out of date - usually due to installing from an old DVD or working offline for an extended period of time. To resolve this, simply install the latest update by downloading and opening the installer from the installation page.
Solution 2:Verify Windows is up-to-date
Solution 3

: Repair the Installation
Sometimes repairing Logos Bible Software via Windows' Repair tool in "Programs and Features" will fix what is causing the crash.
Press

Windows

+R (the Windows key is in the bottom-left corner of the keyboard)

.
Copy and paste appwiz.cp into the Run dialog box.
Click OK.
Find Logos Bible Software, right-click it and click "Repair."
Allow Windows to run the install to repair the software.
Open Logos Bible Software.
Solution 4: Open Verbum to a blank layout
Hold the Control key down.
With the Control key held down open Verbum with the Control key still being held down.
When the sign in window appears click "Sign in." (Verbum should open to a blank layout)
To navigate to the home page click the house icon in the top left or use Verbum as you normally would.
Solution 5: AMD Graphics Cards
If your computer has an AMD graphics card check to see if Plays.TV is installed, and follow the instructions here.
Solution 6

: Verbum Crashes when opening or configuring panel on Windows 7
If you are using Windows 7 SP 1 and Verbum is crashing when operating it, this article may resolve the problem
Still having trouble?
If these solutions do not resolve the issue, it will be necessary to collect more information about the problem. Please visit the Report a Problem page for instructions on how to collect and submit more data to troubleshoot the problem.