Updating Your Account and Changing Your Email Address or Password.
Your Verbum email and password are the keys to your Verbum Account. They will get you into Verbum Bible Software, any of the Verbum mobile apps (for iPad, iPhone and Android), and the family of Faithlife websites, like Verbum, Faithlife eBooks, and Proclaim.
Access your Account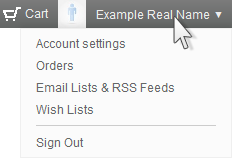 From Verbum.com:
Look for your name in the top-right corner of the website.
If it's not there, click "Sign in".
Click on your name.
Choose "Account settings".
Your Verbum Account page should open.
If you are unable to sign in, verify the email you are using is spelled correctly, and reset your password. Use the verified email and new password to sign in.
Here you can make changes to some account details like:
Update your billing profile.
Manage your email preferences and mobile devices.
You can also review your Verbum.com orders, Pre-Pubs and Community Pricing bids.
Edit your Profile and Settings

To edit your profile information, like email address, name and password, click the "Edit Profile" link in the top-left corner.
This will redirect you to your Faithlife.com Account Settings page.
Here you can edit Faithlife.com settings regarding your Profile, general Faithlife.com Notifications, and what content appears on the Sidebar of Faithlife.com.
The Profile tab contains a mix of required and optional information. The "Profile Info" section contains your display information name visible at Faithlife.com and Verbum forums. The "Account" section contains required private information like your real name, and login email for Faithlife.com and Verbum.com.
Edit Account Details: Change your Email or Password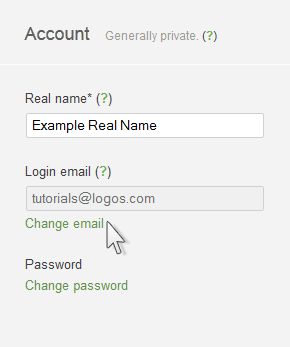 From your Faithlife profile page, you can edit your Account details: real name (displayed only to you and Verbum), email address, and password.
Change Email
To change your email address, click "Account" then click "Change email". Your new email address will be used to sign into Verbum.com, Verbum applications and Faithlife. This is the email address Verbum will use to contact you with important information about your account.
Change Password
To change your password, click "Account" then click "Change password". You will need to enter your current password to change to a new password. If you do not remember your current password, click here.
Optional: Edit Profile Details
This section is optional, but recommended for community interaction. Information is public unless otherwise specified with a privacy slider.
The "Profile info" section allows you to set up a public display name, photo, a brief biography (about) and set your Faithlife.com public profile address.
You can also fill out additional information about yourself in the "About you" section. Adjust the sliders to control privacy information.