Problem:
I have a very fast computer, but I have encountered a problem that causes Verbum to run very slowly or stop responding, and need to report it.
Or a Support Technician has requested that I send them performance log files.
See also: Report a Problem (Crash or Error) & What to do if Verbum Crashes
Tip: Many performance issues can be addressed through resource management or by disabling certain extra features, especially on older computers. Please visit Optimizing Verbum Performance for help with these simple changes.
Solution:
Verbum users can run the Verbum Performance Tool to create an "ETL" file which can be used along with standard "Verbum Log Files" to diagnose potential performance issues in Verbum. Diagnostics should be submitted to the support department for analysis.
Installing the Logos Performance Tool
Run the installer and follow the prompts.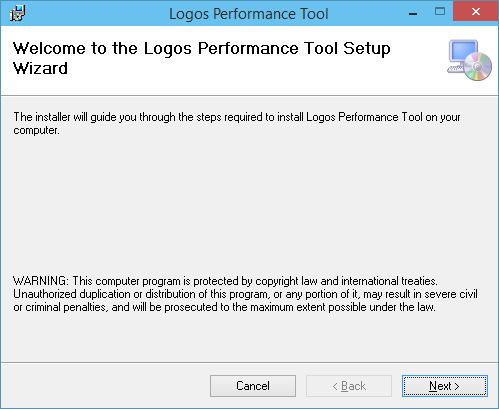 When setup completes, it is also recommended to run Windows Update and ensure all "important" updates are installed.
Additional Software: This will install the Verbum Performance Tool and Microsoft's Windows Performance Toolkit (WPTx64 or WPTx86) if it is not already present.
Using the Performance Tool
The Verbum Performance Tool will enable additional logging in Verbum to diagnose potential performance issues.
To begin, open the "Verbum Performance Tool".
Open Verbum, and press the "Start Sampling" button on the tool.

Repeat the actions in Verbum which seemed overly slow.
When you're finished, press "Stop Sampling".
Note: While sampling, additional windows may open. They should close automatically, when complete. Please, do not interrupt this process.
Submitting your Performance Logs:
Now that you've logged the slow process, please submit your logs for review by the Development team.
Open the Windows File Explorer.
Navigate to your "Documents" folder.
Locate the "Verbum Log Files" folder.
Right-click on the Log Files folder and choose "Send to" > "Compressed (Zipped) folder".
A Zip File will be created.
Click here to visit the Verbum forums.
Click on "Write a New Post."
Enter a description of what you were doing when the problem occurred.
Attach your "Verbum Log Files.zip" file, using the media button shown with a small "paper clip" icon.
Then "Post" your report.

The support and development teams often monitor these forums and will be in touch with you as soon as possible.
If a technician requested your report directly, please email it:
Attach the Verbum Log Files.zip file to an email.
Please, describe the problem and steps used to recreate it in your email.
Send the email to support@logos.com
A technician will receive your email and share it with the development team for analysis, then respond as needed.
Please Note: Analysis of these files may take some time. We appreciate your patience as we pursue the issue.